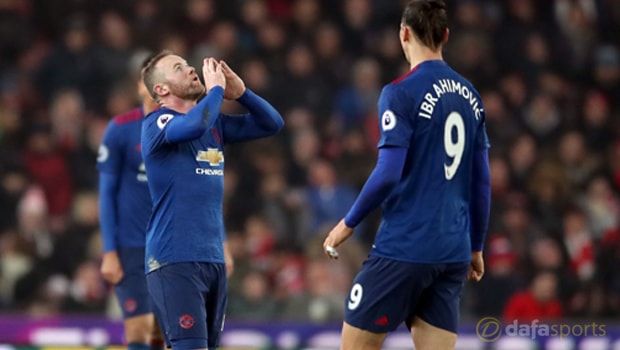 Wayne Rooney menegaskan dirinya tetap berkomitmen penuh ke Manchester United, meski dengan spekulasi yang mengaitkannya dengan perpindahan bernilai tinggi ke Cina.
Pemain berusia 31 tahun ini telah menghabiskan mayoritas masa karirnya dengan Red Devils, awalnya bergabung di klub dari Everton di tahun 2004, dan hari Sabtu lalu dia menjadi topscorer sepanjang masa mereka, saat dia mencetak golnya yang ke-250 bagi klub, saat seri 1-1 dengan Stoke.
Pemain internasional Inggris ini mengakhiri akhir pekan yang berkesan dengan menerima Football Writer's Association's Tribute Award, pada Minggu malam, dan dia kini telah mengkonfirmasikan bahwa dirinya berkomitmen penuh pada mantan juara, minimal untuk saat ini.
"Saya berkomitmen," kata Rooney. "Saya sudah lama berada di klub. Sepakbola itu olahraga yang aneh. Apapun bisa terjadi dan segalanya berubah sangat cepat, tapi saya senang di Manchester United."
Rooney has not been an automatic first choice for boss Jose Mourinho this season, starting just eight Premier League matches, and he conceded that there is a sense of frustration that he is not starting more regularly.
Rooney telah menjadi pilihan pertama otomatis bagi pelatih, Jose Mourinho, di musim ini, dengan start di 8 pertandingan Liga Premier, dan diakuinya bahwa ada kekecewaan bahwa dia tidak lebih sering start.
"Tentu saja, seperti yang sudah saya katakan sebelumnya, saya ingin bermain di lebih banyak laga," tambahnya. "Saya bahagia, secara pribadi ini momen yang bagus, jadi saya rasa saya punya setahun, dan opsi satu tahun lagi. Kita lihat saja apa yang akan terjadi, juga setelahnya."
Rooney berharap untuk meningkatkan rekor pencetakan golnya di laga MU yang selanjutnya, melawan Hull di Stadion KCOM hari Kamis nanti, di leg kedua laga semifinal Piala EFL mereka.
Red Devils unggul 2-0 dari leg pertama, dan odds mereka 1,53 di taruhan 90 menit, sementara odds Hull 6,50, dan odds hasil seri 4,20.
Leave a comment