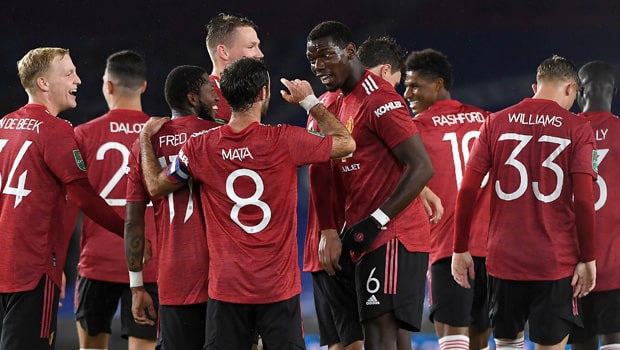 Manchester United pada Kamis malam mendapatkan grup tangguh dalam undian fase grup Liga Champions UEFA.
Setan Merah, setelah bermain di Liga Europa musim lalu, lolos ke Liga Champions setelah finis kedua di Liga Inggris musim lalu; United melaju ke semifinal Liga Europa, di mana mereka kalah dari Sevilla.
Pada pengundian yang diadakan di studio RTS di Jenewa, Manchester United, setelah dimasukkan ke dalam pot 2, diundi ke dalam grup H bersama dengan Juara Prancis PSG, juara Turki Istanbul Basaksehir dan top Gun Jerman RB Leipzig.
Untuk klub Inggris lainnya, Manchester City ditempatkan di grup C bersama klub Portugal Porto, Olympiacos juara Yunani, dan Marseille.
Chelsea juga tidak semudah itu, dengan juara Liga Europa Sevilla, klub Rusia Krasnodar dan tim Ligue 1 Stade Rennais di grup E.
Juara Liga Premier Liverpool memiliki hasil imbang termudah dari semua tim Inggris dengan Ajax, Atalanta, dan Midtjylland di grup D.
Sementara itu, striker Bayern Munich Roberto Lewandowski dinobatkan sebagai pemain terbaik UEFA tahun ini setelah mencetak 55 gol dalam 47 pertandingan untuk juara Eropa musim lalu saat mereka meraih treble serta Piala Super Jerman dan UEFA baru-baru ini.
Demikian pula, pelatih Bayern Hansi Flick dinobatkan sebagai pelatih terbaik tahun ini, sementara pemain Manchester City Kevin De Bruyne menjadi gelandang terbaik musim ini.
Joshua Kimmich dan Manuel Neuer memenangkan penghargaan defender dan Goalkeeper of the season.
Pengundian babak grup Liga Champions UEFA:
Grup A: Bayern Munich, Atletico Madrid, Salzburg, Lokomotiv Moscow
Grup B: Real Madrid, Shakhtar Donetsk, Inter Milan, Borussia Monchengladbach
Grup C: Porto, Manchester City, Olympiacos, Marseille
Grup D: Liverpool, Ajax, Atalanta, Midtjylland
Grup E: Sevilla, Chelsea, FK Krasnodar, Rennes
Grup F: Zenit St Petersburg, Borussia Dortmund, Lazio, Club Brugge
Grup G: Juventus, Barcelona, Dynamo Kyiv, Ferencvaros
Grup H: Paris St-Germain, Manchester United, RB Leipzig, Istanbul Basaksehir.
Leave a comment