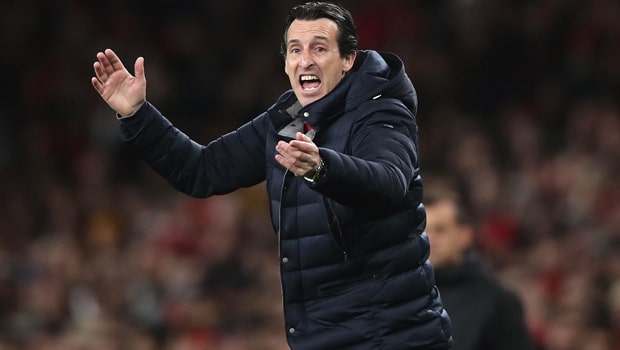 Unai Emery mengatakan kualifikasi untuk Liga Champions berada di tangan Arsenal setelah menang 1-0 di Watford pada Senin malam.
Gol awal Pierre-Emerick Aubameyang sudah cukup untuk memberi The Gunners tiga poin langka di Liga Premier dan itu juga membantu mereka naik ke urutan keempat dalam klasemen.
London utara tahu jika mereka memenangkan semua lima pertandingan papan atas mereka yang tersisa antara sekarang dan akhir musim maka mereka akan menjamin kembalinya ke Liga Champions musim depan dan Emery senang mereka memiliki nasib mereka di tangan mereka sendiri.
"Posisi di klasmen sangat penting," katanya. "Di tangan kita, untuk mengambil empat besar."
Penyebab Arsenal dibantu oleh pengiriman kapten Watford Troy Deeney hanya 60 detik setelah Aubameyang membuka skor, tetapi Hornets lebih dari menahan mereka sendiri dengan 10 pemain dan Emery mengakui setelah pertandingan bahwa timnya seharusnya mengendalikan permainan lebih baik dengan keuntungan seseorang.
Dia menambahkan: "Saya pikir kami bisa mengendalikan pertandingan dengan lebih baik, dan saya pikir itu sangat penting dalam posisi ini dengan satu pemain lagi, untuk mematahkan garis mereka dan untuk menyerang sepertiga terakhir dengan lebih baik.
"Tapi saya pikir sangat positif memiliki ketiga poin."
Sekarang Arsenal akan mengalihkan perhatian mereka ke leg kedua pertandingan perempat final Liga Eropa melawan Napoli pada Kamis.
The Gunners akan menuju ke Napoli dengan memegang keunggulan 2-0 dari leg pertama pekan lalu dan mereka dengan odd 4,33 untuk mengamankan kemenangan pada malam itu, sementara Napoli di odd 1,73 dan draw di odd 4,00.
Leave a comment