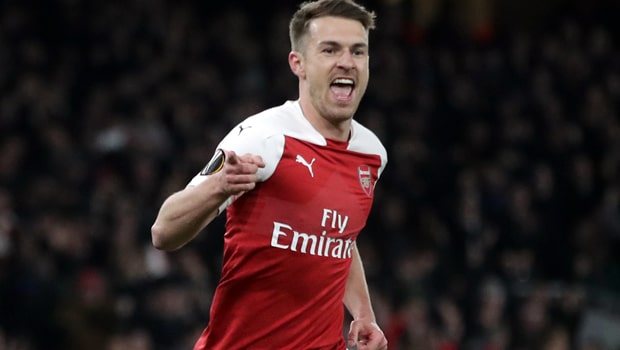 Manajer Arsenal Unai Emery memuji sikap Aaron Ramsey dan ingin gelandangnya itu mengakhiri karirnya di Emirates musim ini.
Tugas internasional Wales Ramsey selama 11 tahun dengan The Gunners akan berakhir musim panas ini setelah ia menandatangani perjanjian pra-kontrak dengan juara Italia Juventus.
Pemain berusia 28 tahun itu akan menjadi pemain profil tertinggi kedua yang meninggalkan Emirates dengan status bebas transfer menyusul pergantian Jack Wilshere ke West Ham United pada awal kampanye saat ini.
Sejak kepindahan pemain tengah itu ke Turin dipastikan ia telah melakukan sejumlah penampilan mengesankan, tidak lebih dari kemenangan 2-0 di perempat final Liga Europa, leg pertama atas Napoli.
Ramsey mencetak gol pembuka di pertandingan itu, gol keduanya dalam tiga pertandingan, dan Emery berharap pemain Wales itu bisa menyelesaikan karier Arsenal dengan cara terbaik.
Seperti dilansir The Mirror, ia mengatakan: "Tidak mudah baginya setelah ia menandatangani kontrak dengan Juventus tetapi fokusnya adalah untuk membantu kami dan sikapnya adalah sikap yang sangat luar biasa disetiap sesi latihan.
"Saya terus berbicara dengannya tentang melakukan sesuatu yang sangat penting dalam pertandingan terakhir di sini di dua kompetisi yang sangat penting bagi kami.
Dia ingin melakukan sesuatu yang penting bagi para pendukung dan saya ingin melakukan sesuatu yang penting dengannya di pertandingan terakhirnya di sini."
Arsenal beraksi pada hari Senin ketika mereka melakukan perjalanan ke Vicarage Road untuk menghadapi Watford dan tim tamu adalah 2.25 favorit untuk menang, hasil imbang dihargai 3,60 sedangkan Hornets – yang memiliki final Piala FA melawan Manchester City untuk melihat ke depan ke bulan depan – adalah peluang 3,10.
Leave a comment