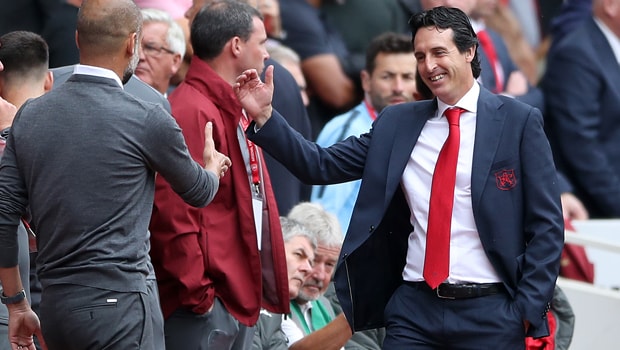 Unai Emery mengakui Arsenal 'pantas' ditundukkan oleh Manchester City pada hari Minggu tetapi ia yakin mereka akan meningkat saat musim berlangsung.
The Gunners memulai era pasca-Arsene Wenger di Stadion Emirates dengan kekalahan 2-0 melawan juara Premier League musim lalu, dengan Raheem Sterling dan Bernardo Silva meraih gol.
Mantan pelatih Paris Saint-Germain, Emery, mengaku setelah laga itu timnya layak kalah, tetapi ia didorong oleh kinerja keseluruhan para pemainnya dan ia yakin akan peningkatan yang berkelanjutan saat kampanye berkembang.
"Kinerja Manchester City menunjukkan kepada kita bahwa kita perlu melanjutkan proses peningkatan. Mereka pantas mendapatkan hasilnya," kata Emery kepada Sky Sports.
"Kami adalah tim baru [yang perlu] ditingkatkan. Bagi saya hari ini, saya frustrasi karena kami kalah tetapi itu juga merupakan satu pengalaman dan kemajuan lanjutan."
Emery percaya bermain melawan City adalah salah satu pertandingan tersulit yang akan dihadapi timnya di seluruh kampanye, jadi dia berharap hal-hal yang mungkin akan sedikit lebih mudah seiring kemajuan pekan.
Ia menambahkan: "Saya melihat hal-hal dalam kinerja kami dapat kami tingkatkan dan pertandingan pertama melawan Man City bagus, tetapi mungkin lebih sulit daripada musim kami tahun ini."
Arsenal selanjutnya beraksi ketika mereka melakukan perjalanan ke Stamford Bridge untuk melawan Chelsea pada hari Sabtu dan odds 4,33 untuk mengamankan kemenangan, sementara The Blues, yang memenangkan pembuka Premier League mereka 3-0 di Huddersfield, tersedia pada odds 1,80 dan hasil seri ditawarkan pada odds 3,80.
Leave a comment