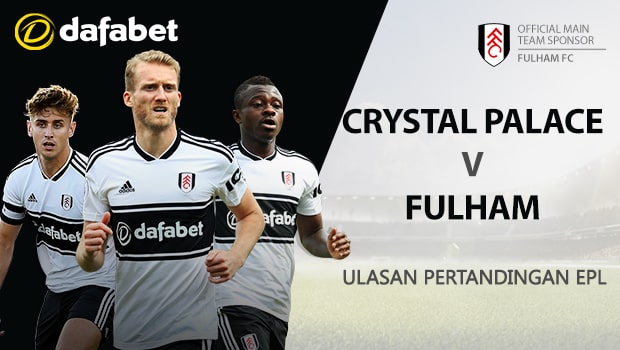 Fulham dan Crystal Palace akan saling berhadapan akhir pekan ini saat Fulham berusaha membalas kekalahan 0-2 di awal musim melawan Eagles.
Mari kita lihat lebih dekat di mana nilainya berada dalam pertarungan ini.
Dafabet Odds
Team to Win (Regular Time)
• Crystal Palace: 1.92
• Seri: 3.68
• Fulham FC: 4.20
Spread
• Crystal Palace -0.5: 1.87
• Fulham FC +0.5: 2.03
Total
• Atas 2.5: 2.00
• Bawah 2.5: 1.90
Yang Harus Diperhatikan
Bertaruh pada Seri: Odds menunjukkan ada 27 persen peluang pertandingan berakhir seri. Ada undian di 23,5 persen dari AccuScore, menunjukkan tidak ada nilai tambah pada Seri.
Skor rata-rata setelah 10.000 simulasi adalah 1,98 – 0,82, mendukung Crystal Palace.
Offsides: Fulham memimpin liga di offsides. Sesuatu yang harus diawasi karena mereka cenderung mulai agresif yang bisa berakibat pada kehilangan peluang tertentu karena kurangnya disiplin.
Head to Head: Kedua belah pihak terakhir bertemu untuk membuka musim 2018-2019 pada Agustus 2018. Crystal Palace menang 2-0 setelah memimpin 1-0 di babak pertama di belakang gol dari Jeffrey Schlupp dan Wilfried Zaha.
Balas Dendam: Fulham memulai pertarungan terakhir pada Agustus dengan banyak momentum. Aleksander Mitrovic melakukan dua tembakan awal yang diselamatkan oleh Wayne Hennessey. Perhatikan Mitrovic yang bertekad untuk menemukan bagian belakang jaring kali ini.
Pemimpin yang di perhitungkan
Aleksander Mitrovic memiliki peluang sekitar 35 hingga 36 persen untuk mencetak gol bagi Fulham. Mitrovic memiliki rata-rata 2,58 tembakan keseluruhan per simulasi, 0,93 tembakan ke gawang dan 0,44 gol per simulasi.
Luka Milivojevic memiliki peluang 33 persen untuk mencetak gol bagi Crystal Palace. Dia memiliki rata-rata 1,99 tembakan keseluruhan per simulasi, 0,81 tembakan ke gawang dan 0,40 gol per simulasi.
Pilihan Analis
Crystal Palace untuk menang
Odds mengindikasikan Crystal Palace memiliki peluang 52 persen untuk memenangkan pertandingan ini. Mereka memenangkan lebih dari 63 persen di AccuScore simulasi, menunjukkan sedikit nilai tambah. Ini adalah pilihan tren panas 2-bintang (dari empat) AccuScore.
Leave a comment