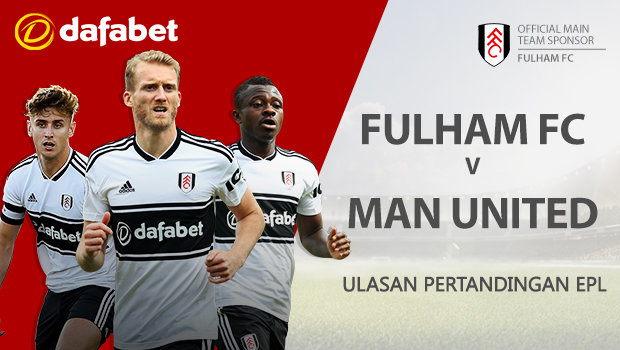 Manchester United menjamu Fulham pada Sabtu ini saat keduanya berusaha bangkit kembali dari penampilan sub-par. United mengejar back-to-back 2-2 seri vs Southampton dan Arsenal, masing-masing, sementara Fulham mengincar kemenangan No. 3 musim ini
Mari kita simak nilai di dalam pertandingan ini.
Odds Dafabet
Tim untuk Menang (Waktu Reguler)
• Manchester United: 1,37
• Seri: 5,41
• Manchester City: 8,88
Spread
• Manchester United -1,5: 2,04
• Fulham +1,5: 1,89
Total
• Over 3: 1,90
• Under 3: 2,00
Untuk Dinantikan
Taruhan pada Seri: Odds — pada 5,41 — menunjukkan ada kemungkinan 18,5 persen pertandingan berakhir seri. Ada hasil seri di 17,5 persen dari AccuScore sims, tidak ada nilai tambah pada seri
Skor rata-rata setelah 10.000 simulasi adalah 2,71 – 1,04, untuk Manchester United.
Kondisi Terkini: The Red Devils kalah dalam empat pertandingan liga terakhir mereka, dengan kemenangan terakhir mereka saat ini vs Bournemouth pada bulan November.
Kemajuan: Keadaan mulai berubah sejak Claudio Ranieri mengambil alih Fulham. Kepemimpinannya telah membantu Fulham mendapatkan empat poin dari kemungkinan sembilan, dengan hanya satu kekalahan ke Chelsea dalam rentang waktu itu
Pencarian: Fulham masih mencari jalan kemenangan pertama mereka tahun ini. Dua kemenangan kandang mereka vs Burnley dan Southampton di Craven Cottage. Pertahanan Fulham telah memberikan 36 gol, dengan 19 pertandingan berturut-turut tanpa clean sheet.
Head to Head: Kedua tim terakhir berhadapan di Premier League pada Februari 2014, menghasilkan hasil seri 2-2 setelah Fulham unggul 1-0 saat break.
Proyeksi Pemimpin
Aleksandar Mitrovic memiliki peluang 33 hingga 34 persen untuk mencetak gol akhir pekan ini. Dengan rata-rata 2,82 terjangan keseluruhan per sim, 0,99 terjangan ke gawang per sim dan 0,41 gol per sim.
Untuk Manchester United, Anthony Martial dan Romelu Lukaku keduanya memiliki peluang hampir 50 persen untuk mencetak gol. Rata-rata Martial 1,93 terjangan keseluruhan per sim, 0,99 terjangan ke gawang per sim dan 0,69 gol per sim; Lukaku rata-rata 2,67 terjangan keseluruhan per sim, 1,39 terjangan ke gawang per sim dan 0,68 gol per sim.
Tebakan Analis
MU -1,5
Odds — pada 2.04 — menunjukkan ada sekitar 49 persen peluang MU memenangkan pertandingan ini dengan lebih dari satu gol. Mereka menang mendekati 72 persen dari AccuScore sims dengan margin kemenangan rata-rata +1,67 gol. Kemenangan MU adalah empat bintang (dari empat) AccuScore hot trend pick.

Leave a comment