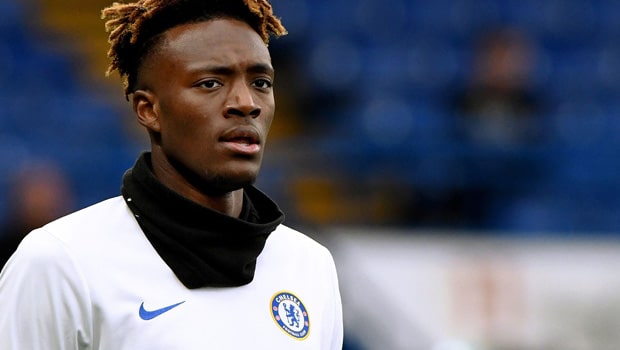 Bos Chelsea Thomas Tuchel mengungkapkan alasan di balik absennya striker Tammy Abraham dari hasil imbang 0-0 dengan Manchester United di Liga Inggris akhir pekan lalu.
Manajer Jerman lebih memilih formasi 3-4-2-1 pada hari Minggu dengan Olivier Giroud memimpin lini depan dengan latar belakang gol kemenangannya dalam kemenangan 1-0 atas Atletico Madrid di leg pertama Putaran Liga Champions UEFA mereka. dari 16 bentrokan.
Tammy Abraham tidak bermain dalam pertandingan itu dan dia sudah tidak bermain sejak dia bermain imbang 1-1 Chelsea melawan Southampton.
Dia kini gagal tampil untuk Chelsea dalam dua pertandingan berturut-turut dan juga gagal mencetak gol untuk The Blues di Liga Premier sejak 26 Desember.
Tuchel telah menyatakan bahwa ketidakhadiran pemain itu bukan apa-apa, tetapi pemain itu cukup beruntung.
"Dia kurang beruntung, Tammy, tidak hanya dalam permainan tetapi juga dalam latihan," kata Tuchel, Rabu. Setelah sentuhan terakhir kembali, dan dia berjuang untuk itu sekarang, dia akan tetap menjadi pemain yang akan kami dorong. Itu tugas saya untuk mendorong dia ke batas kemampuannya dan kami tidak akan berhenti melakukan ini ". Kata Tuchel.
Lebih lanjut, dia menjelaskan bahwa pemain tersebut tidak sedang dihukum atau dikirimi sinyal.
Sementara itu, Tammy Abraham mengoleksi 12 gol untuk the Blues musim ini di semua kompetisi meski ketersediaannya untuk pertandingan liga melawan Liverpool pada Kamis diragukan.
Chelsea di urutan kelima dengan 44 poin dengan satu poin lebih banyak dari Liverpool menjelang pertandingan Kamis.
Mereka akan menghadapi Everton dan Leeds United juga sebelum menghadapi Atletico Madrid di leg kedua pertandingan babak 16 besar Liga Champions UEFA di Stamford Bridge pada 13 Maret.
Ditulis oleh Daniel Ademiju Idowu
Leave a comment