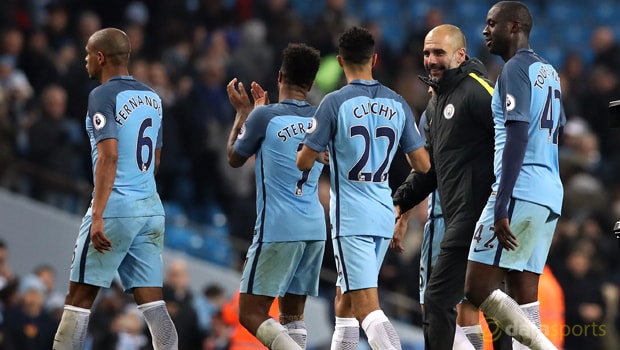 Pelatih Man City, Pep Guardiola, menegaskan semangat skuadnya membuatnya tak ragu dalam melatih tim yang
tepat.
Sang mantan pelatih Barcelona dan Bayern Munchen tengah mendapat sorotan beberapa pekan terakhir setelah kalah liga berturut-turut melawan Chelsea dan Leicester.
Skuadnya kembali ke jalur kemenangan dengan kemenangan kandang melawan Watford pada pertengahan pekan lalu, dan pada hari Minggu mereka bangkit dari ketinggalan satu gol untuk mengalahkan Arsenal di Stadion Etihad.
Theo Walcott mencetak gol awal untuk Gunners tapi City membalas setelah istirahat dengan gol dari Leroy Sane dan Raheem Sterling untuk merebut seluruh tiga poin.
Skuad Guardiola tak banyak berkuasa pada babak pembukaan pertama, tapi ia menegaskan tidak ada kepanikan di ruang ganti pada saat istirahat, ia mengungkapkan pada pemainnya bahwa Arsenal 'beruntung' untuk memimpin.
"Saya tidak berkata apa-apa pada mereka pada half time. Saya berkata pada mereka untuk tidak memikirkan skor, namun cukup terus bermain.
Arsenal beruntung di babak pertama," katanya. Guardiola berkata ia tidak ada keraguan tentang perannya di City dan ia bangga pada pertahanan skuad.
Sergio Aguero memiliki satu pertandingan lagi untuk menyelesaikan skorsing-nya dan City sangat ingin ia kembali.
"Para pemain bermain maksimal di setiap pertandingan. Saya senang menjadi pelatih City. Mereka selalu bersemangat," katanya pada reporter
"Kami ingin bermain-main hari ini, tapi ini tak akan mudah karena tingginya desakan dari Arsenal, dan mereka pertahanan mereka padat. Saat pemain kami kembali, semoga kami dapat mencetak lebih banyak gol."
Manchester City are 4.50 to win the Premier League this season, while Arsenal are 11.00 after their latest loss.
Leave a comment