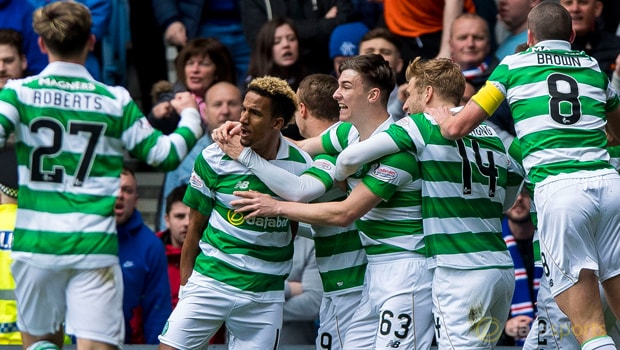 Scott Sinclair, pemain penyerang Celtic, menegaskan bahwa dirinya tidak pernah sebahagia ini dalam karirnya, setelah memenangkan dua gong di malam penghargaan klub.
Mantan bintang Swansea ini telah menjadi populer sejak bergabung di klub musim panas kemarin, dan hari Minggu lalu penampilannya dianugerahi penghargaan.
Sinclair terpilih sebagai 'player of the year' klub oleh rekan-rekan timnya dan fans, dan pemain berusia 28 tahun ini mengakui bahwa itu adalah kehormatan besar dari musim yang spektakuler bagi Hoops.
Setelah masa yang buruk dengan Manchester City dan Aston Villa, Sinclair mengubah karirnya sesudah mencetak 25 gol dan dia langsung berterima kasih pada semua yang memilihnya.
Dia berkata ke situs resmi klub: "Ini adalah waktu terbaik dan waktu paling membahagiakan dalam karir saya saat ini.
"Dengan hubungan dengan para fans dan mereka semua yang memilih saya, itu sangat berarti bagi saya.
"Menakjubkan. Musim yang kami lewati, ada banyak sekali pemain lain tim yang pantas meraih penghargaan ini, dan hebat rasanya untuk mendapatkannya.
"Saat rekan-rekan tim memilih kita, itu berarti sekali. Siapapun bisa memenangkannya. Penghargaan apapun yang kita raih itu spesial. Saat para pemain memilih kita sebagai pemenang, itu terasa hebat."
Kieran Tierney memenangkan penghargaan 'young player of the year' klub, sedangkan Moussa Dembele memenangkan gol terbaik setelah strike-nya terhadap St. Johnstone bulan Februari lalu.
Trio ini berharap untuk merayakannya dengan mengalahkan St. Johnstone lagi akhir pekan ini, dan Hoops diunggulkan di odds 1,20 untuk mencapainya. Odds hasil seri 6,50, sementara lawan mereka terpasang di odds 12,00.
Leave a comment