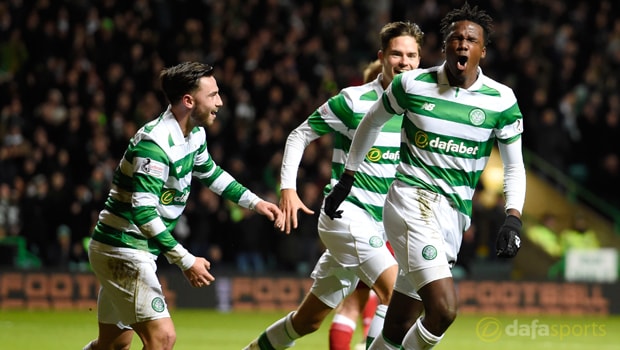 Menurut Dedryck Boyata dari Celtic, reputasi timnya musim ini sia-sia kalau mereka gagal untuk menang di final Piala Skotlandia, melawan Aberdeen, hari Sabtu mendatang.
Di ranah domestik, Bhoys telah tampil brilian, tak terkalahkan sepanjang kampanye Premiership Skotlandia dan meraih gelar keenam berturut-turut, juga menambahkan Piala Liga Skotlandia bulan November lalu.
Mau tak mau, mereka dijuluki 'Yang Tak Terkalahkan', tapi mereka masih tersisa satu laga lagi di musim ini, dan laga di Hampden Park ini diprediksi akan jadi rumit.
Celtic mengalahkan the Dons di final Piala Liga, dan walaupun tim Derek McInnes juga berkesulitan untuk mengimbangi mereka di laga lain mereka, The Reds satu-satunya tim yang membuat mereka realistis di liga, tapi terjatuh di pertengahan kedua kampanye ini.
Treble domestik akan menyempurnakan kampanye perdana yang luar biasa untuk Brendan Rodgers, yang akan mencari potensi target transfer untuk meningkatkan peluang timnya di Liga Champions untuk musim depan.
Akan tetapi, Boyata jelas tidak lengah dan mengharapkan penampilan hebat lagi sesudah menjadi satu-satunya pemain reguler di tim akhir bulan Januari lalu.
Bek asal Belgia ini mengatakan bahwa timnya senang dengan penampilan mereka musim ini, tapi diakuinya bahwa kekalahan hari Sabtu nanti akan menodai gemerlapnya kampanye mereka.
Dia berkata: "Kami telah tak terkalahkan di liga, tapi kami masih ada satu laga lagi, dan kami akan melupakan segalanya kalau kami kalah di final ini."
Celtic diunggulkan di odds 1,50 untuk menang hari Sabtu ini, odds hasil seri dalam 90 menit 4,20, sedangkan Aberdeen terpasang di odds 6,00.
Leave a comment