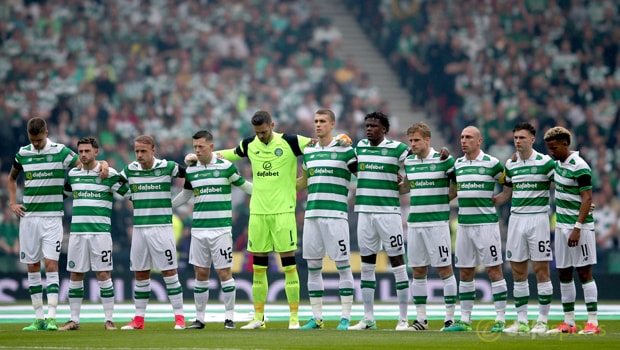 Celtic akan melawan Sunderland pada hari Sabtu, 29 Juli, dengan dipertaruhkannya Dafabet Cup, dalam laga yang juga merayakan hari jadi ke-20 Stadium of Light.
Laga ini akan menandakan laga persahabatan pra-musim pertama, yang akan dilangsungkan di stadion ini, sejak tahun 2008, dengan Hoops pemenang treble Brendan Rodgers melawan Sunderland, menjelang kampanye mereka di Kejuaraan Inggris yang akan datang.
Laga pertama di gelanggang kandang Stadium of Light Sunderland  berlangsung tanggal 31 Juli 1997, yang menandakan era baru dalam pembangunan stadion di Inggris.
Kevin Ball, yang merupakan kapten tim Sunderland di laga pertama melawan Ajax itu, bergembira bahwa Celtic akan bertandang bulan depan untuk menandakan peristiwa itu.
"Dengan adanya Celtic disini untuk merayakan hari jadi ke-20, hampir pas pada harinya, akan menjadi kesempatan yang sangat istimewa bagi semua yang terlibat dalam Sunderland AFC," kata Ball, yang sekarang adalah duta untuk klub.
Celtic memulai kampanye pra-musim mereka dengan mengalahkan tim Austria, BW Linz, 1-0 Rabu malam lalu.
Mereka akan menghadapi laga lain melawan Rapid Vienna, Slavia Prague, dan Shamrock Rovers sebelum melawan tim Sunderland untuk Dafabet Cup.
Diantaranya, tim Rodgers akan memulai perjalanan mereka menuju babak grup Liga Champions dengan bertanding di laga babak kualifikasi kedua mereka, di kandang dan sebagai tandang.
Celtic di-draw melawan Linfield atau La Fiorita, dan leg tandang akan dimainkan lebih dulu, tanggal 11 atau 12 Juli, dan leg kandang akan dimainkan di Celtic Park tanggal 18 atau 19 Juli.
Tim juara Irlandia Utara ini memenangkan leg pertama 1-0 Rabu malam lalu, berkat gol menit terakhir oleh Jordan Stewart.
Apabila mereka melaju minggu depan di San Marino, Linfield akan menjamu Celtic di Belfast hari Jumat, tanggal 14 Juli, karena masalah keamanan seputar pertarungan level tinggi.
Odds Sunderland 15,00 untuk memenangkan gelar Kejuaraan musim depan.
Leave a comment