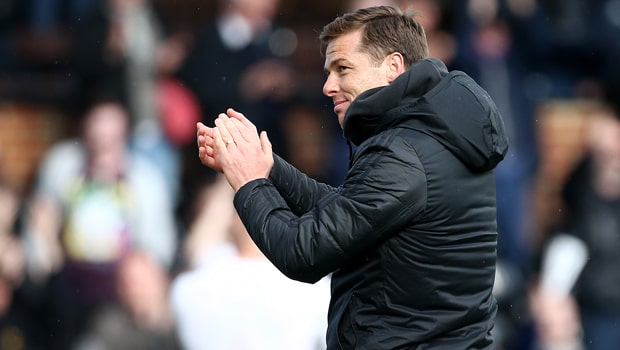 Bos sementara Fulham Scott Parker yakin klub sekarang dapat mulai membuat kemajuan menyusul kemenangan tandang akhir pekan lalu melawan Bournemouth.
The Cottagers memenangkan pertandingan pertama mereka di musim ini dan mereka juga mencatatkan kemenangan pertama kali sejak mereka kembali ke papan atas.
Setelah mengalahkan Everton, penalti Aleksandar Mitrovic memastikan kemenangan atas the Cherries dan dalam prosesnya, membantu Parker untuk mendapatkan pekerjaan secara penuh.
Parker memuji para pemain atas reaksi mereka sejak degradasi dikonfirmasi dan dia yakin klub bisa bersemangat untuk bagaimana kampanye mereka akan berjalan tahun depan.
Dia mengatakan kepada situs resmi klub: "Saya mengatakannya beberapa minggu lalu, Anda terdegradasi dan akhirnya ada kekecewaan tetapi di klub sepak bola begitu Anda memiliki kekecewaan Anda kemudian tetap melihat kedepan.
"Anda tidak bisa berkeliaran memikirkan apa yang mungkin terjadi, bagaimana keadaannya dan akhirnya itu adalah pesan dari kami, dua hari kekecewaan sejak dari pertandingan Watford ketika kami dikonfirmasi sebagai terdegradasi dan kemudian kami pindah ke yang berikutnya dan hal berikutnya adalah musim depan.
"Pertunjukan yang bisa kita bangun, menang adalah kebiasaan dan akhirnya tahun depan kita harus memenangkan sebanyak mungkin pertandingan.
Kami sudah merasakan liga ini dan tahun depan adalah ini adalah liga yang benar benar kami inginkan kembali, kami perlu membangun dari sana dan dua pertunjukan terakhir telah memberi kami sedikit batu loncatan untuk target itu."
Fulham kembali ke Craven Cottage pada hari Sabtu untuk bentrokan dengan sesama pejuang Cardiff City. Pasukan Parker adalah 1,85 untuk mencetak skor pertama, sementara mereka 3,00 untuk memenangkan permainan pada babak pertama.
Leave a comment