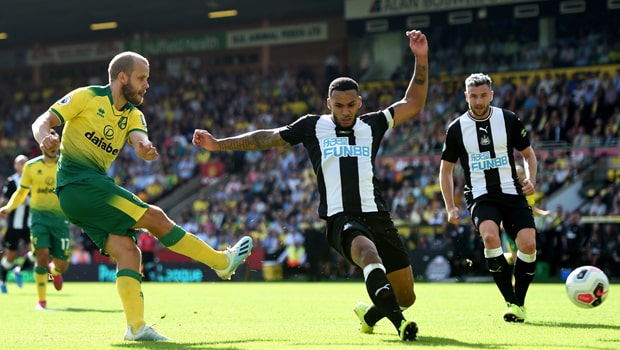 Striker Norwich City Teemu Pukki mengatakan mimpinya menjadi kenyataan untuk mencetak hat-trick Liga Premier pertamanya dalam kemenangan 3-1 atas Newcastle United pada Sabtu.
Setelah menderita kekalahan 4-1 dalam pertandingan pembukaan musim ini di Liverpool, Liverpool, Canaries merespons dengan satu hari bagi para penggemar mereka untuk mengingat melawan Magpies yang kesulitan di Carrow Road.
Ini tentu saja suatu hari yang tidak akan dilupakan striker Finlandia Pukki ketika ia membawa pulang bola pertandingan setelah hat-trick bagus yang mengecam sisi Steve Bruce untuk kekalahan kedua mereka dalam kampanye. Setelah menanggalkan pakaian Denmark, Brondby pada musim panas 2018, Pukki kini menjadi pemain utama di Norwich, dengan 29 golnya musim lalu membantu Canaries kembali ke papan atas.
Sekarang dengan hat-trick Liga Premier untuk namanya, penyerang mengakui itu adalah mimpi yang menjadi kenyataan untuk mendapatkan tiga gol dan tiga poin pada hari Sabtu.
"Itu adalah salah satu permainan terbaik yang pernah saya miliki di sini," kata Pukki pada program BBC's Match of the Day. "Hat-trick di Liga Premier adalah sesuatu yang bahkan tidak bisa saya impikan beberapa tahun yang lalu."
Selanjutnya bagi Norwich adalah perjalanan ke pemenang Liga Eropa Chelsea pada hari Sabtu. Canaries mendapat 3,90 untuk menang, undiannya dikutip 3,55 dan Chelsea saat ini diberi harga 1,88 untuk mengamankan kemenangan pertama mereka di bawah manajer Frank Lampard.
Leave a comment