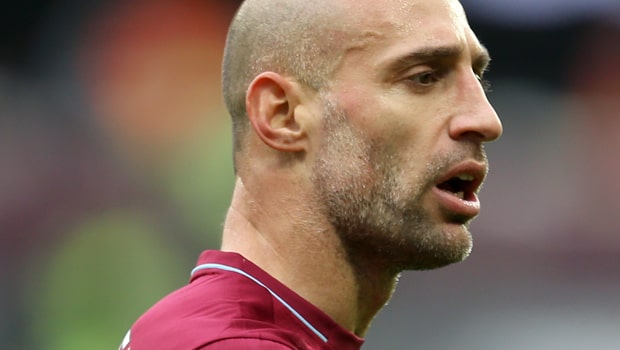 Bek kanan West Ham United Pablo Zabaleta telah mendesak timnya untuk mengembalikan musim ini ke tangan mereka untuk melawan Liverpool saat mereka mencoba untuk menempati posis ke tujuh teratas di Liga Premier.
The Hammers telah kehilangan tiga pertandingan terakhir mereka di semua kompetisi dan pasukan Manuel Pellegrini sekarang berada di urutan ke 12 di tabel liga.
Kemenangan pada Senin malam akan mengangkat mereka kembali ke posisi teratas klasemen tetapi konsistensi adalah masalah bagi tim London musim ini. Kekalahan ke Bournemouth dan Wolves telah memberi tekanan lebih pada pundak Pellegrini tetapi Zabaleta berkeras sepak bola Eropa bisa tercatat untuk juara.
West Ham hanya tujuh poin dari tujuh besar dan Zabaleta menegaskan timnya belum keluar dulu dari pertandingan tersebut.
"Ini akan sulit karena ini adalah tim yang berada di puncak liga," kata Zabaleta kepada Skysports. "Melawan tim-tim top, kami telah bermain sangat baik. Tetapi kami telah gagal tiga atau empat kali untuk mendapatkan posisi ketujuh.
Itu adalah sesuatu yang telah kita bicarakan, betapa bagusnya untuk menyelesaikannya di posisi ketujuh dan mencoba dan bermain di Liga Eropa musim depan.
"Jika Anda ingin memiliki musim yang baik, Anda hanya perlu konsistensi dan bisa bermain cukup baik setiap minggu.
"Kami hanya perlu menemukan konsistensi itu jika Anda ingin menjadi tim yang lebih baik. Setiap pemain harus ada di dalamnya, mereka harus merasa bangga bermain untuk West Ham dan membuat klub ini lebih baik."
West Ham dengan odds sebesar 8,00 untuk menang melawan Liverpool, dengan hasil imbang pada odds 5,00, sedangkan The Reds pada odds 1,36 untuk favorit.
Leave a comment