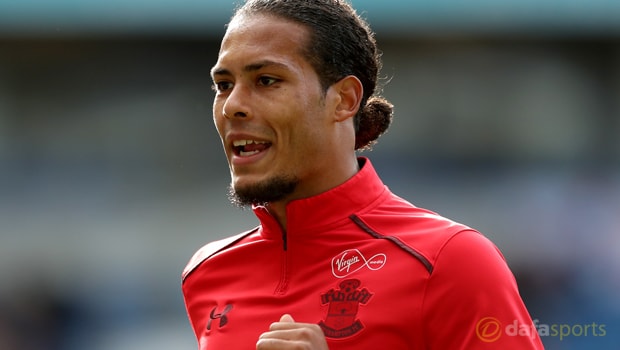 Virgil van Dijk berkata dirinya memberikan segalanya untuk Southampton, dan dia senang dengan keadaannya sekarang, setelah ia gagal transfer ke Liverpool musim panas kemarin.
Pemain internasional Belanda, van Dijk, kabarnya merupakan target bagi beberapa klub top Eropa, tim juara bertahan Liga Premier, Chelsea, juga menunjukkan ketertarikannya di bagian akhir bursa transfer.
Namun, Liverpool-lah yang memberikan usaha paling konsisten untuk merekrut bek tengah ini, dan Reds terpaksa menerbitkan pernyataan umum, untuk meminta maaf ke Southampton, setelah klub pesisir selatan ini menyalahkan mereka untuk dugaan penggunaan pendekatan yang tidak sah.
Hal itu tidak menggoyahkan tim Merseyside untuk melanjutkan usaha mereka, dan di suatu titik, kesepakatan tampak akan terwujud, setelah jagoan Saints ini menyerahkan pengajuan transfer, walaupun ditolak oleh klub.
Saat tenggat waktu sudah berlalu, pemain berusia 26 tahun ini tetap menjadi pemain Southampton, tapi butuh waktu hingga dia dimasukkan kembali ke tim inti.
Kabarnya perpindahan di bulan Januari menjadi suatu kemungkinan, tapi van Dijk bersikeras dirinya hanya fokus untuk membantu mengubah nasib timnya di Liga Premier.
Dia sampaikan ke Daily Star: "Pertama-tama, saya pikir tidak pantas ya, untuk berkomentar tentang sesuatu yang terjadi dulu.
"Tapi saya memberikan 100 persen buat klub. Saya bekerja keras tiap hari, saya membantu rekan-rekan tim saya, saya optimis, dan saya mau memenangkan setiap laga.
"I am happy and that's the most important thing so we will just see what happens."
"Saya senang dan itulah yang paling penting, jadi kita lihat saja nantinya gimana."
Southampton akan kembali beraksi tanggal 18 November, saat merek bertandang ke Liverpool, dan tim tandang ini adalah underdog di odds 7,50. Odds hasil seri 4,75, sedangkan tim tuan rumah adalah unggulan berat di odds 1,40.
Leave a comment