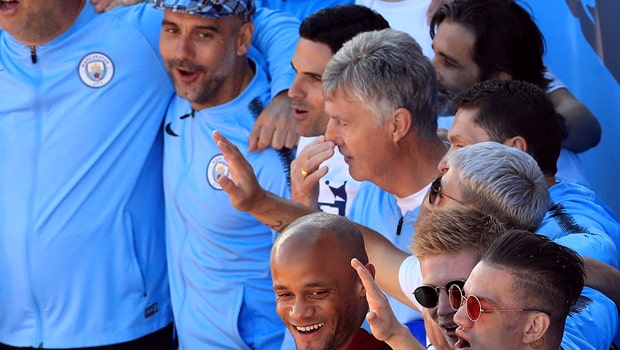 Bos Manchester City Pep Guardiola merasa dia harus memberikan kejayaan Liga Champions untuk pantas meraih kesuksesan di klub.
Pria asal Spanyol merujuk kritiknya akan kegagalan di Eropa, apa pun keberhasilan lain yang ia raih sebagai manajer City.
Guardiola dan timnya mengamankan treble domestik yang belum pernah terjadi sebelumnya pada Sabtu kemarin ketika mereka menggagalkan Watford untuk memenangkan final Piala FA dengan hasil 6-0 di Wembley.
Klub ini sekarang telah memenangkan empat gelar Liga Premier, dua Piala FA dan empat Piala Liga sejak pengambil alihan yang dipimpin oleh Sheikh Mansour pada 2008.
Liga Champions adalah satu-satunya gelar yang paling mereka dambakan tetapi sejauh ini belum bisa mendarat. Setelah kalah dari Liverpool tahun lalu, City digagalkan kali ini dalam pertandingan babak delapan besar yang luar biasa dengan rival Liga Premier lainnya Tottenham.
Guardiola merasa waktunya di klub akan dinilai dari kemampuannya untuk meraih kesuksesan Liga Champions, meski memecahkan rekor di kancah domestik.
"Saya katakan sebelumnya bahwa saya tahu kami akan dinilai pada akhirnya apakah kami memenangkan Liga Champions atau tidak," kata Guardiola. "Aku tahu, kecuali kita melakukan itu, itu tidak akan cukup.
"Ini datang dengan saya. Saya tahu itu. Saya tiba di Barcelona, kami beruntung kami menang dua kali dalam empat tahun dan orang-orang berharap saya sesuatu yang istimewa bahwa kami harus memenangkan Liga Champions dan itu masih benar.
"In this club, the points record and the domestic competitions is incredible, but the Champions League we don't win quite often compared to the other ones because the teams are so good, the competition is so demanding but we want to win it."
"Di klub ini, rekor poin dan kompetisi domestik sangat luar biasa, tetapi Liga Champions kami tidak sering menang dibandingkan dengan yang lain karena tim-tim lainnya sangat baik, kompetisi sangat menguras tenaga kami tetapi kami ingin memenangkannya.
Leave a comment