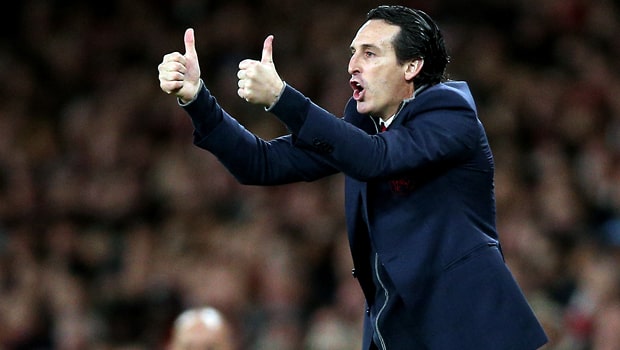 Unai Emery sangat senang melihat tim Arsenalnya mengalahkan North London yang menyaingi Tottenham 4-2 pada Premier League Minggu lalu – akan tetapi dengan cepat mengalihkan fokusnya ke pertandingan rabu mendatang dengan Manchester United di Old Trafford.
The Gunners memperpanjang rekor tak terkalahkan mereka di semua kompetisi menjadi 19 pertandingan saat mereka muncul dengan kemenangan dalam debu lokal di Stadion Emirates.
Penalti Pierre-Emerick Aubameyang pada babak pertama memberikan Gunners untuk memimpin, akan tetapi Spurs unggul saat istirahat berkat sundulan Eric Dier dan tendangan penalti dari Harry Kane.
Arsenal bergerak dengan roda giginya pada babak kedua, namun, dengan Aubameyang meraih kedua dari permainan sebelum Alexandre Lacazette dan Lucas Torreira di segel semua tiga poin untuk pihak Emery, yang juga melompati Spurs di meja liga.
Bagaimanapun, The Gunners tidak memiliki waktu yang lama untuk merenungkan hari keberhasilan mereka, karena mereka kembali beraksi pada hari Rabu ketika mereka melakukan perjalanan ke utara untuk menghadapi United.
Arsenal sudah tidak memenangkan pertandingan di Old Trafford sejak 2006, akan tetapi Emery optimis untuk menuju kompetisi.
" kami tahu ini sangat sulit di Manchester – baik sejarah maupun saat ini."Emery mengatakan ke reporter.
"Kami ingin mempersiapkan cara terbaik yang memungkinkan untuk mendapatkan penampilan terbaik. Ini adalah tantangan besar untuk kami dan kami ingin memiliki tantangan-tantangan seperti Rabu lalu.
The Gunners dibanderol dengan harga 3,00 untuk mengamankan ketiga poin pada hari Rabu, sementara United, yang gagal memenangkan salah satu dari tiga pertandingan liga terakhir mereka, tersedia di 2,38 dan hasil imbang ini ditawarkan di 3,50.
Leave a comment