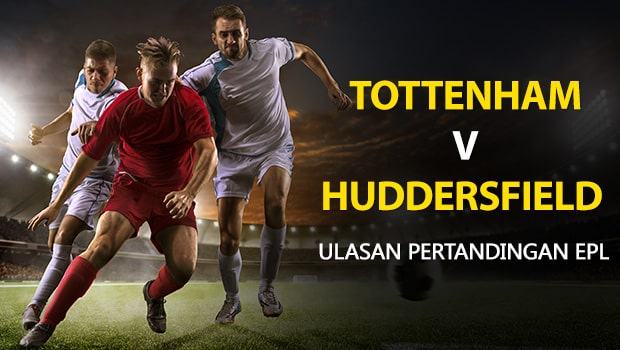 Kami memiliki jadwal pertandingan yang menarik Sabtu ini ketika Tottenham menjamu Huddersfield Town di Stadion Hotspur.
AccuScore masih memiliki beberapa pilihan nilai yang seharusnya menjadi kemenangan mudah bagi tim tuan rumah.
Mari kita lihat lebih dekat di mana nilainya berada dalam pertarungan ini.
Pilihan Dafabet
Team to Win (Waktu Reguler)
• Tottenham: 1.24
• Gambar: 6.78
• Kota Huddersfield: 12.65
Handycap
• Tottenham -2: 2.11
• Huddersfield Town +2: 1.83
Total
• Over 3,5: 2,20
• Under 3.5: 1.73
Yang Harus Diperhatikan
Draw : Ada peluang 14,7 persen pertandingan berakhir dengan draw. Ada draw dalam 6 persen sim AccuScore, menunjukkan tidak ada nilai tambah pada Draw.
Skor rata-rata setelah 10.000 simulasi adalah 3,62 – 0,4, mendukung Tottenham.
Mencari untuk Bangkit Kembali: Huddersfield Town berharap untuk kembali ke jalurnya setelah kehilangan dua kemenangan berturut-turut, yang terakhir adalah kekalahan 4-1 dari Leicester City. Tugas yang besar melawan sisi yang duduk No. 3 di tabel EPL.
Must-Watch Talent: Harry Kane mendapatkan semua cinta – bahkan dalam sims kita sendiri – tetapi Son Heung-Min selalu harus-tonton. Sejak bergabung dengan Tottenham empat tahun lalu, ia telah mencetak 64 gol dalam 179 penampilan. Musim ini, ia memiliki 12 gol dan lima assist. Menurut sims AccuScore, dia memiliki peluang 51 persen untuk mencetak gol akhir pekan ini.
Head to Head: Kedua belah pihak terakhir kali bertemu dalam aksi liga pada 29 September 2018 ketika Tottenham menang 2-0. Huddersfield terakhir kali mengalahkan Tottenham pada 21 April 1956 (Divisi Satu Liga).
Pemimpin yang Diproyeksikan
Aaron Mooy rata-rata melakukan 1,04 tembakan per sim, 0,35 tembakan ke gawang per, dan 0,12 gol per sim untuk Huddersfield Town. Dia memiliki peluang 11,5 persen untuk mencetak gol.
Untuk Tottenham, kami berharap Harry Kane memiliki kinerja monster. Dalam sims, ia rata-rata hampir mencapai 7 tembakan secara keseluruhan, 3,32 tembakan ke gawang per dan 1,54 gol per sim. Dia memiliki peluang 79 persen untuk menjaringkan bola akhir pekan ini.
Pilihan Analisa
Over 3,5
Ada kemungkinan 45 persen total skor gabungan mencapai 4 gol. OVER mencapai lebih dari 57 persen sim AccuScore, dengan skor gabungan rata-rata adalah 4,02 gol. Ini adalah pilihan hot trend AccuScore bintang tiga (dari empat)
Leave a comment