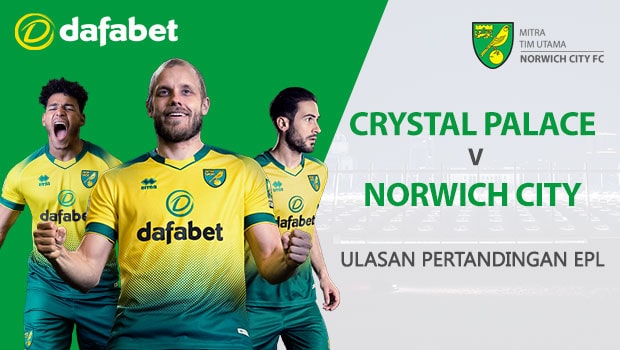 Norwich City berangkat minggu ini dan menuju ke Selhurst Park untuk pertarungan dengan Crystal Palace.
Mari kita lihat lebih dekat di mana nilainya pada pertarungan ini.
Pilihan Dafabet
Team to Win (Waktu Reguler)
• Crystal Palace: 1.98
• Draw: 3.80
• Norwich City: 3.82
Spread
• Crystal Palace -0.5: 1.99
• Norwich City +0.5: 1.94
Total
• Over 2,5: 1,73
• Under 2.5: 2.20
Yang Harus Diperhatikan
Draw: Ada kemungkinan 26 persen pertandingan ini berakhir seri. Itu terjadi di sekitar simulasi persen yang sama, menunjukkan tidak ada nilai tambah pada pick.
Skor yang diproyeksikan adalah 1,73 – 1,34, mendukung Crystal Palace.
Harus Diperbaiki: Cukup mengejutkan, Wilfried Zaha memiliki nol gol atau assist musim ini untuk Palace. Beberapa menyarankan pekerjaan offseason-nya dengan Ivory Coast menyebabkan kakinya lelah.
Selalu Menyerang: Norwich berada di urutan ketiga dalam liga dengan 9 gol dari dalam kotak. Mereka juga kedua di liga (di belakang Manchester City) dalam memukul woodwork.
Head to Head: Kedua belah pihak terakhir kali bertanding dalam aksi Liga Premier pada April 2016 ketika Palace menang, 1-0.
Pemimpin yang Diproyeksikan
Teemu Pukki memiliki peluang 48 persen untuk mencetak gol bagi Norwich City. Pukki rata-rata 2,76 tembakan keseluruhan per sim, 1,23 tembakan ke gawang per dan 0,64 gol per sim.
Luka Milivojevic hampir memiliki peluang 33 persen untuk mencetak gol bagi Crystal Palace. Dia rata-rata 1,82 tembakan secara keseluruhan per sim, 0,77 tembakan ke gawang per dan 0,38 gol per sim.
Pilihan Analis
Palace untuk menang.
Bukan satu ton nilai tambah dalam pertarungan ini, tetapi data simulasi menunjuk ke tim tuan rumah yang mengambil ini. Palace menang adalah pick tren panas bintang empat (dari empat).
Pastikan untuk memeriksa semua prediksi MLB, NFL, NCAA, NHL, NBA, dan pertandingan sepak bola lainnya dari AccuScore.
Leave a comment