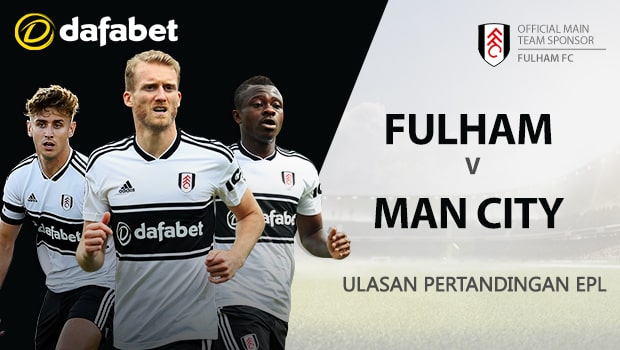 Fulham menjamu Manchester City di Craven Cottage pada Sabtu ini di hari pertandingan 32 Liga Premier. City mengikuti jejak Liverpool dengan beberapa poin di klasemen, jadi perhatikan mereka yang ingin menyerang lebih awal.
Mari kita lihat lebih dekat di mana nilainya berada dalam pertarungan ini.
Pilihan Dafabet
Tim untuk Menang (Waktu Reguler)
Fulham FC: 18.67
Seri : 9.36
Manchester City: 1.15
Puuran
Fulham FC +2.5: 1.89
Manchester City -2.5: 2.04
Total
Over 3.5: 1.76
Under 3.5: 2.16
Yang Harus Diperhatikan
Draw: Ada kemungkinan 10,6 persen pertandingan berakhir dengan seri. Ada seri di bawah 7 persen dari SIM AccuScore, menunjukkan tidak ada nilai tambah pada undian.
Skor rata-rata setelah 10.000 simulasi adalah 4,07 – 0,66, mendukung Man City.
5 Terakhir: Fulham memiliki 5 kekalahan dalam lima keseluruhan terakhir mereka, sementara City memiliki 5 kemenangan. Fulham memasuki pertandingan ini setelah kalah 2-1 di liga dari Liverpool.
Berjuang untuk Bertahan: Fulham saat ini berada di peringkat ke-19 di klasemen liga, kebobolan paling banyak gol di Liga Premier musim ini.
Head to Head: Kedua belah pihak terakhir bertemu pada November 2018 di Piala EFL ketika City menang, 2-0. Fulham mencetak gol terakhir vs City pada Desember 2013.
Pemain yang disorot
Sergio Agüero rata-rata 5 tembakan keseluruhan per sim, hampir 2 tembakan ke gawang per dan 1,09 gol per sim. Ia hampir memiliki peluang 67 persen untuk mencetak gol.
Aleksandar Mitrovic rata-rata 2,18 tembakan keseluruhan per sim, 0,83 tembakan ke gawang per dan 0,32 gol per sim
Pilihan Analis
Over 3.5
4-star (out of four) AccuScore memilih tren panas. City sendiri rata-rata 4 gol dalam sims AccuScore.
Leave a comment