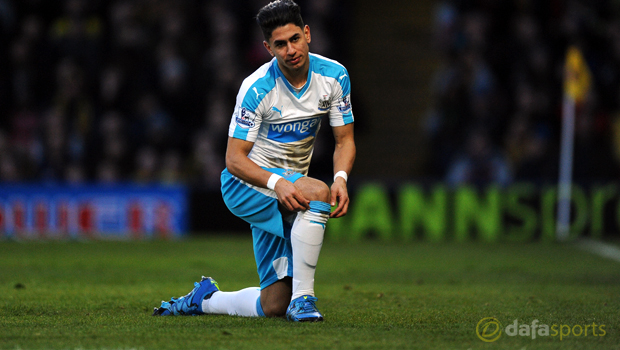 Ayoze Perez mengungkapkan kegembiraannya setelah menandatangani kontrak baru yang akan membuatnya tetap bermain di St James Park sampai musim panas 2021.
Pemain berusia 22 tahun telah menjadi hit instan sejak tiba di Timur Utara dari Tenerife pada musim panas 2014, mencetak tujuh gol dalam kampanye debutnya dan mengikuti bahwa sampai dengan lima serangan lebih lanjut sejauh musim ini.
The Magpies saat ini di bawah tiga di Liga Utama Inggris, namun Perez menegaskan dia senang untuk tetap berada di klub yang memberinya kesempatan untuk mengesankan di papan atas Inggris.
Perez mengatakan:.. "Sebuah hari khusus … hari besar bagi saya, saya benar-benar senang di sini jadi itu adalah hal yang baik bagi saya dan saya berharap hal yang sama untuk keluarga Geordie Newcastle memberi saya segalanya, membuat saya pesepakbola sebagainya profesional – benar-benar bahagia di sini, benar-benar senang untuk menandatangani kontrak baru ".
Mantan Spanyol U-21 ini yakin timnya bisa mulai menarik dari zona degradasi selama beberapa minggu mendatang, terutama setelah Magpies ditambahkan ke skuad mereka cukup selama jendela transfer Januari.
Dia menambahkan: "Ya, itu semakin baik dan lebih baik, pergi ke arah yang benar Hal ini tidak akan memakan waktu terlalu lama untuk memulai pendakian di liga – jadi bersabarlah dan mencoba untuk mendapatkan hasil secepat mungkin.."
Newcastle ditandatangani Henri Saivet, Jonjo Shelvey dan Andros Townsend pada penawaran permanen selama Januari, serta membawa maju Seydou Doumbia pinjaman, dan semua empat pemain bisa fitur dalam Magpies pertandingan berikutnya melawan Everton di Goodison Park, Rabu.
Tim asuhan Steve McClaren adalah orang luar di 5.00 untuk memenangkan pertandingan, sementara The Toffees adalah 1,67 favorit dan undian tersedia di 4.00.
Leave a comment