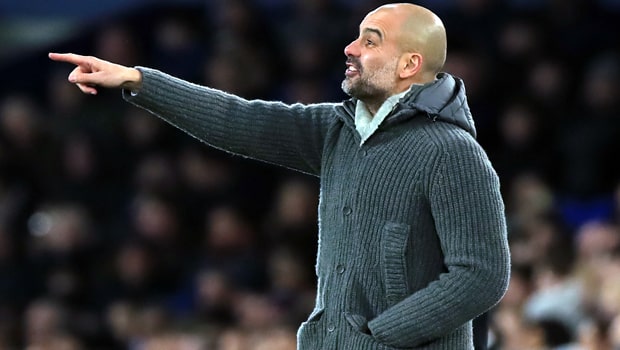 Pep Guardiola memuji sikap Manchester City yang tidak pernah menyerah setelah mengalahkan Everton 1-0 untuk naik ke puncak klasemen Liga Premier.
The Citizens kehilangan tempat pada rival judul Liverpool selama periode Festive setelah jatuh ke kekalahan berturut-turut di tangan Crystal Palace dan Leicester.
Mereka membuntuti Liverpool dengan 10 poin pada 29 Desember tetapi hasil hari Rabu di Goodison Park membuat mereka bergerak maju dari The Reds ke puncak Liga Premier. Liverpool memang memiliki permainan di tangan tetapi Guardiola senang berada di puncak melihat ke bawah daripada masih mencoba untuk mengimbangi.
Guardiola mengatakan kepada Sky Sports: "Ini bagus, tidur di puncak klasemen, ini jauh lebih baik, tetapi Liverpool memiliki satu pertandingan ekstra di Old Trafford." Sebulan yang lalu, kami mungkin tertinggal 10 poin. Empat atau lima hari yang lalu, kami bisa saja tujuh dan sekarang kami teratas.
"Ini pelajaran untuk tidak menyerah. Banyak hal yang akan terjadi." Meskipun penampilan mereka mengesankan, Guardiola tidak terlalu terbawa suasana karena mereka masih memiliki banyak pertandingan besar di cakrawala.
Dia menambahkan: "Saya benar-benar tidak terlalu memikirkannya. Kami memiliki ujian luar biasa Minggu depan [melawan Chelsea], piala dan Liga Champions dimulai lagi, jadi saya tidak terlalu memikirkan tentang menjadi yang pertama atau kedua."
City dapat didukung pada 1,50 untuk melanjutkan bentuk kemenangan mereka ketika mereka menjamu Chelsea, yang diberi harga 6,50 untuk mengambil tiga poin pada hari Minggu, sementara hasil seri tersedia di 4,33.
Leave a comment