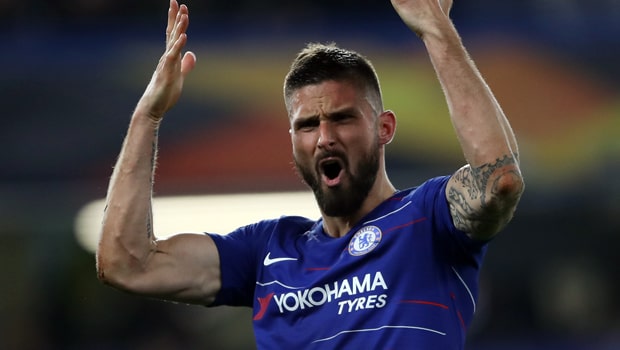 Pemain depan veteran Prancis Olivier Giroud telah menandatangani kontrak satu tahun baru untuk tinggal bersama Chelsea untuk musim selanjutnya.
Mantan penyerang Arsenal itu sedang mempersiapkan final Liga Eropa melawan klub lamanya pekan depan di Baku dan telah didorong oleh berita bahwa ia akan tetap di Stamford Bridge untuk kampanye 2019/20.
Pemain berusia 32 tahun ini telah mencetak 17 gol dalam 62 penampilan untuk The Blues sejak pindah melintasi London pada Januari 2018.
Tidak kurang dari 10 gol itu telah datang dalam perjalanan ke penentu Liga Eropa musim ini, cukup untuk melihatnya menjadi pemain Chelsea pertama yang mencetak angka ganda dalam satu musim sepakbola Eropa.
Setelah menandatangani kontrak awal 18 bulan, kontraknya akan berakhir pada musim panas ini dan dia bersemangat untuk tetap bersama Chelsea. "Saya sangat senang menandatangani kontrak baru.
Saya benar-benar ingin tinggal setidaknya satu tahun lagi – saya telah merasakan bagian dari tim, keluarga, sejak awal dan mudah-mudahan akan ada lebih banyak trofi yang akan datang, "kata Giroud.
Chelsea masih menghadapi larangan transfer musim panas ini, tunduk pada banding di hadapan Pengadilan Arbitrase untuk Olahraga, dan klub ingin mempertahankan Giroud, meskipun telah mendatangkan Gonzalo Higuain pada Januari dari Napoli.
"Dia kadang harus sabar dan menunggu peluang, tetapi masih mampu memberikan kontribusi positif bagi tim," kata direktur Chelsea Marina Granovskaia.
"Apakah itu permainan link-up yang tidak egois atau 10 golnya di Liga Eropa musim ini, ia telah menjadi anggota penting dari skuad dan kami berharap ia akan dapat mengambil medali pemenang kedua Chelsea di Baku akhir bulan ini untuk menemani. kemenangan Piala FA musim lalu."
Chelsea adalah favorit di 2,40 untuk menaklukkan Arsenal di final Liga Eropa. The Gunners adalah 3,10 sedangkan bentrokan pameran adalah 3,25 untuk mengakhiri level setelah 90 menit.
Leave a comment