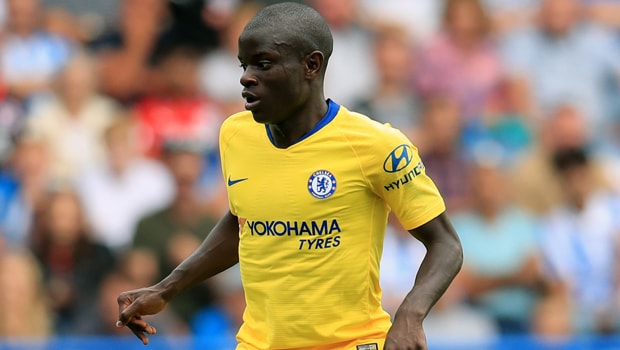 N'Golo Kante menikmati bermain dalam peran penyerang di bawah asuhan pelatih Chelsea baru, Maurizio Sarri.
Sang pemain internasional Perancis, yang memainkan peran utama dalam kemenangan negaranya di Piala Dunia musim panas ini, sebagian besar dikerahkan sebagai gelandang bertahan selama waktunya di Inggris bersama Chelsea dan Leicester.
Memang, sebelum dimulainya musim ini, pemain berusia 27 tahun itu hanya mencetak tiga gol di Liga Premier League, meskipun ia sudah keluar dan menjalankan musim ini setelah ia mencetak gol pembuka the Blues dalam kemenangan 3-0 mereka di Huddersfield pada Sabtu.
Kante mampu mencetak gol dalam pertandingan itu setelah ditempatkan dalam posisi yang lebih maju oleh pelatih baru, Sarri, dan ia mengakui itu adalah peran yang telah ia latih sepanjang pra musim.
"Sekarang sistemnya berbeda, terutama cara kita bermain sekarang," kata Kante kepada Mirror.
"Jadi, bahkan selama liburan, kami berpikir dan berbicara tentang bagaimana beradaptasi. Itu akan membutuhkan banyak pengorbanan dari kami semua, jadi itulah mengapa aku harus terus bergerak maju sebagai pemain."
Kante tentu tidak peduli dengan perubahan posisi dan tanggung jawab yang berbeda yang menyertainya, karena ia percaya selalu penting untuk bisa beradaptasi jika Anda ingin memiliki umur panjang di tim mana pun.
"Saya telah bekerja dengan manajer yang berbeda di masa lalu dan sistem yang berbeda," tambahnya.
"Cara terbaik untuk selalu menjaga posisi Anda [di dalam tim] adalah tetap fokus dan memiliki sikap yang sama terhadap semua orang. Jadi itulah yang akan saya coba lakukan lagi di musim ini."
Chelsea selanjutnya beraksi ketika mereka menjadi tuan rumah Arsenal di Premier League pada Sabtu dan mereka terpasang pada odds 1,80 untuk memenangkan pertarungan kelas berat, sementara The Gunners tersedia pada odds 4,20 dan hasil seri ini ditawarkan pada odds 3,80.
Leave a comment