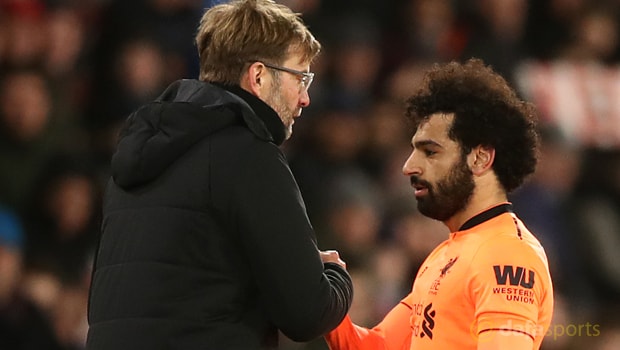 Mohamed Salah percaya nous taktis Jurgen Klopp adalah salah satu alasan utama dia menikmati musim pertama yang mengesankan bersama Liverpool.
Pemain internasional Mesir tersebut telah menjadi wahyu sejak bergabung dengan The Reds dari Roma pada musim panas lalu, karena ia telah menjaring 30 gol di semua kompetisi, termasuk 22 di hanya 26 penampilan di Liga Premier.
Pemain berusia 25 tahun itu mendapat pujian luas atas penampilannya sepanjang kampanye, namun dengan cepat dia mengaitkan banyak pujian dengan Klopp, yang telah memanfaatkannya dalam peran yang lebih menyerang sejak kedatangannya di Merseyside.
"Dengan bos di sini, saya bermain sedikit lebih dekat ke gawang, lebih dari pada klub lain atau lebih dari pelatih saya yang lain telah meminta saya untuk melakukannya," Salah kepada program matchday Liverpool.
"Jadi saya selalu berada di depan gawang untuk memberi saya kesempatan untuk mencetak gol. Manajer selalu menyuruh saya untuk tetap dekat dengan tujuan dalam latihan."
Meskipun memiliki bentuk yang mengesankan, Salah menegaskan masih ada ruang untuk perbaikan dalam permainannya dan dia bekerja keras di lapangan latihan untuk menjadi lebih baik lagi.
"Anda tidak bisa mencetak 10 gol dari 10 bola – itu tidak mungkin dan saya tahu bahwa saya telah melewatkan banyak peluang juga musim ini, tapi saya berusaha untuk memperbaiki," tambahnya.
"Saya selalu berusaha melihat kelemahan saya dan kemudian mengerjakannya dan saya selalu berusaha mencetak gol dengan cara yang berbeda.
Pelatih membantu saya melakukan hal itu dan saya juga bekerja keras sendirian setelah sesi latihan. "
Salah akan berharap untuk menambah penghitungan golnya saat Liverpool menjadi tuan rumah West Ham di Liga Premier pada hari Sabtu.
The Reds dengan harga 1,22 untuk memenangkan pertandingan, sementara Hammers tersedia pukul 12:00 dan undiannya ditawarkan pukul 7:00.
Leave a comment