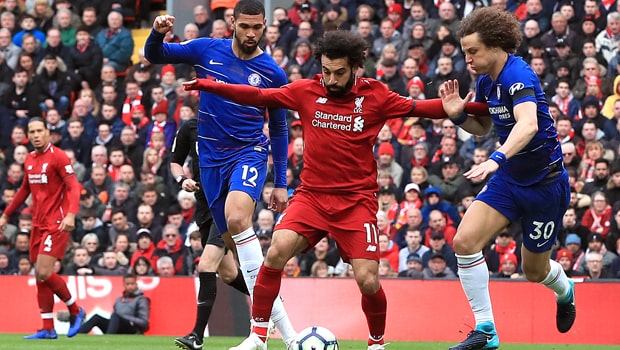 Mohamed Salah percaya bahwa Liverpool akan menjadi juara Liga Premier jika mereka memenangkan empat pertandingan terakhir mereka.
The Reds merebut kembali posisi teratas pada hari Minggu dengan kemenangan 2-0 atas Chelsea di Anfield, gol di babak kedua dari Sadio Mane dan Salah "menaklukan" the Blues.
Man City sebelumnya naik ke puncak dengan kemenangan 3-1 di Crystal Palace tetapi Liverpool unggul dua poin sekali lagi, meskipun dengan permainan yang lebih banyak dimainkan.
Salah berpikir Liverpool akan finis di puncak jika mereka mengalahkan Cardiff (A), Huddersfield (H), Newcastle (A), dan Wolves (H) pada waktu ini dan akhir musim, dengan City menghadapi Tottenham (H) dan tetangganya Manchester United (A) dalam empat hari minggu depan.
"Menurut saya, ya," kata Salah kepada Sky Sports ketika ditanya apakah empat kemenangan akan cukup untuk mendapatkan gelar.
"Kami hanya perlu fokus pada permainan kami dan berharap Manchester City akan kehilangan poin."
Gol Salah yang memukau melawan Chelsea adalah golnya yang ke-21 musim ini di Liga Premier, yang membuatnya menjadi yang teratas dalam daftar pencetak gol bersama Sergio Aguero. Wujudnya tidak se-spektakuler musim lalu, tetapi dia merasa cara yang ditunjukkan tim padanya adalah membantu rekan satu timnya berkembang.
"Ini berbeda ketika tim lain memiliki dua atau tiga pemain pada saya.
[Sadio] Mane memiliki musim yang sangat baik, demikian juga [Roberto] Firmino, mereka mencetak lebih banyak gol daripada musim lalu, karena perhatian pada saya memberi mereka lebih banyak kebebasan, dan saya sangat bahagia untuk mereka, "tambahnya.
"Ini membantu tim untuk mencetak lebih banyak gol, ketika mereka fokus pada saya, pemain lainnya bebas, kami adalah tim dan kami fokus pada tim."
Liverpool 2,20 untuk memenangkan Liga Premier, dengan juara Man City favorit di 1,67.
Leave a comment