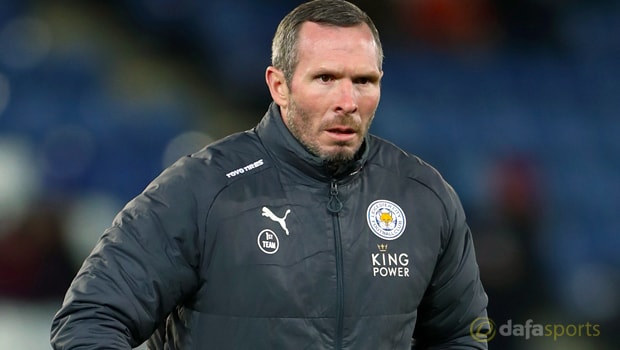 Michael Appleton mengatakan itu "selalu baik" untuk dikaitkan dengan kepindahan ke klub seperti Sunderland meskipun Leicester City nomor dua mengungkapkan fokusnya hanya pada Foxes sekarang.
Sunderland menderita degradasi back-to-back musim ini dan klub, yang berpisah dengan manajer Chris Coleman baru-baru ini, akan bermain sepakbola League One di kampanye berikutnya.
The Black Cats juga berada di ambang pengambilalihan setelah Ellis Short menegaskan dia telah menyetujui kesepakatan untuk menjual ke pemilik Eastleigh Stewart Donald, dengan ratifikasi dari Football League yang diperlukan.
Calon sudah dilaporkan sedang ditarik di tengah-tengah pembicaraan pengambilalihan dan beberapa nama, termasuk mantan manajer Mick McCarthy, telah dikaitkan dengan posting kosong di Stadium of Light.
Appleton, yang juga diyakini menjadi target untuk West Brom, dikatakan berada di daftar pendek Sunderland dan diperkirakan pakaian timur laut akan mendekatinya musim panas ini.
Ketika ditanya tentang spekulasi, asisten manajer Leicester mengungkapkan itu menyenangkan untuk dikaitkan dengan pekerjaan meskipun tujuannya sekarang adalah untuk membantu Foxes menyelesaikan musim dengan kuat.
"Sunderland adalah klub besar dan selalu bagus untuk dihubungkan dengan klub seperti itu," katanya kepada Radio 5 Live.
"Sunderland jelas merupakan pekerjaan besar dan bagus untuk disebut sebagai kandidat potensial.
"Tapi akhirnya, dari sudut pandangku, aku akan memfokuskan semua yang aku lakukan di Leicester City sampai aku diberitahu sebaliknya."
Leicester kembali beraksi pada hari Rabu ketika mereka menyambut Arsenal ke Stadion King Power dan tuan rumah adalah 3,60 untuk menang, hasil imbang dengan harga 3,60 sementara The Gunners adalah 2,00 favorit.
Leave a comment