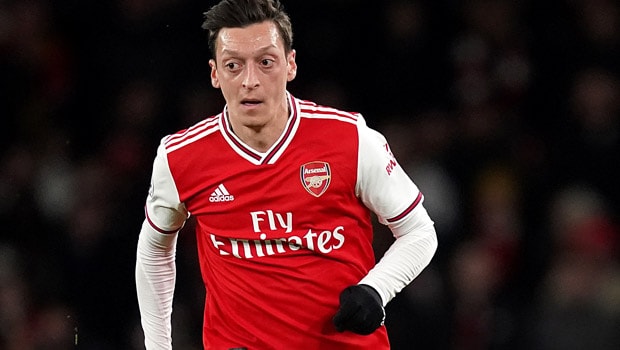 Gelandang Arsenal asal Jerman, Mesut Ozil telah menyatakan bahwa dia akan berada di klub sampai kontraknya berakhir pada Juni 2021, hal ini ibarat mendinginkan beberapa spekulasi transfer seputar sang pemenang Piala Dunia.
Pertandingan terakhir sang gelandang untuk The Gunners adalah pada tanggal 7 Maret dalam kemenangan tim atas rival London, West Ham di Stadion Emirates.
Ozil, 31 tahun tidak tampil sejak sepak bola dilanjutkan pada Juni dan pelatih juara Piala FA Mikel Arteta mengklaim ketidakhadirannya semata-mata karena alasan sepak bola.
Sementara pemain tersebut mengungkapkan bahwa sulit untuk tidak bermain, dia dengan jelas menyatakan bahwa dia memiliki takdirnya sendiri di tangannya dan hanya dia yang dapat memutuskan kapan dia akan pergi.
"Hal-hal menjadi sulit, tetapi saya mencintai Arsenal, saya akan memutuskan kapan saya pergi, bukan orang lain. Saya akan memberikan semua yang saya miliki untuk klub ini, Situasi seperti ini tidak akan pernah menghancurkan saya; hanya membuat saya lebih kuat. Saya menunjukkan di masa lalu saya bisa kembali ke tim, dan saya akan menunjukkannya lagi. " Kata Ozil.
Ozil pindah ke Arsenal dari Real Madrid pada 2013 dalam kesepakatan senilai £ 42,4 juta dan mengalami masa sulit di bawah manajer sebelumnya, termasuk Unai Emery tetapi kembali ke tim di bawah Freddie Ljungberg.
Hari-hari pertama manajer Mikel Arteta menjadi pertanda baik bagi pemain Jerman itu saat ia menjadi starter dalam Sepuluh pertandingan di Liga Premier untuk The Gunners sebelum liga ditangguhkan karena virus corona.
Namun, dia belum tampil sejak dimulainya kembali pertandingan Liga.
Sementara itu, Piala FA tidak akan ada pertandingan ulang di musim 2020-2021 guna mengurangi tekanan jadwal kalender sepak bola.
Babak ekstra penyisihan akan dimulai pada 1 September dan final pada 15 Mei di Stadion Wembley.
Leave a comment