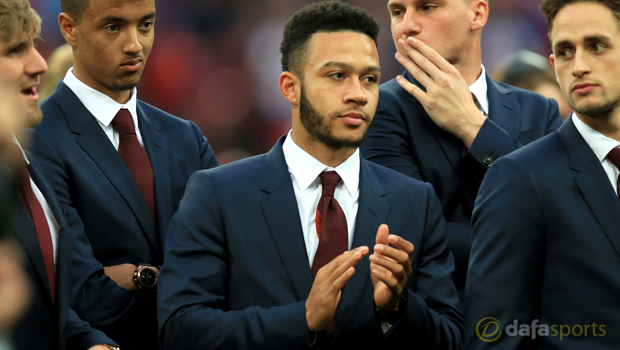 Memphis Depay berkata akan "menarik" bekerja dibawah Jose Mourinho, jika sesuai harapan, pelatih asal Portugal ini ditunjuk sebagai pelatih baru Manchester United.
Pelatih berusia 53 tahun ini sedang berdiskusi dengan Red Devils menyusul kepergian Louis van Gaal pada Senin malam, dengan pengumuman yang diduga akan disampaikan pekan ini.
Depay arrived at Old Trafford last summer, fresh from having inspired PSV Eindhoven to the Eredivisie title, and he was expected to flourish under his fellow Dutchman, having impressed while playing for Van Gaal when he guided the Netherlands to third at the 2014 World Cup.
Depay tiba di Old Trafford musim panas lalu, dengan segar setelah menginspirasi PSV Eindhoven untuk meraih gelar Eredivisie, dan diharapkan untuk berkembang dibawah rekan sebangsanya asal Belanda, setelah meninggalkan kesan saat bertanding dibawah Van Gaal, saat ia membimbing Belanda ke ranking tiga ke Piala Dunia 2014.
Akan tetapi, bukan takdirnya saat gelandang sayap ini gagal mengesankan dan dikesampingkan dari skuad, untuk final kemenangan Piala FA atas Crystal Palace hari Sabtu lalu.
Kemenangan itu tidak cukup bagi Van Gaal untuk mempertahankan pekerjaannya, dan dengan segera tibanya pelatih baru, Depay berkata dirinya tak sabar menanti agar karirnya kembali membaik.
Pemain berusia 22 tahun ini mengaku dirinya tidak selalu sepakat dengan mantan mentornya, dan dia gembira atas peluang untuk bertanding dibawah Mourinho.
"Hubungan love-hate? Entahlah," katanya ke De Telegraaf. "Dan sekarang dia pergi, seperti halnya dalam sepakbola, juga dalam kehidupan, dan kita belajar dan kita menjadi lebih kuat.
"Jika bergabungnya Mourinho diresmikan, akan saya tanyakan Wesley Sneijder dia pria yang seperti apa. Itu menarik. Tampaknya demikian, tapi ini belum resmi."
Kini odds Manchester 7,50 untuk memenangkan Liga Premier 2016/2017, dengan rival lokalnya, Manchester City, memimpin taruhan dengan odds 2,63.
Leave a comment