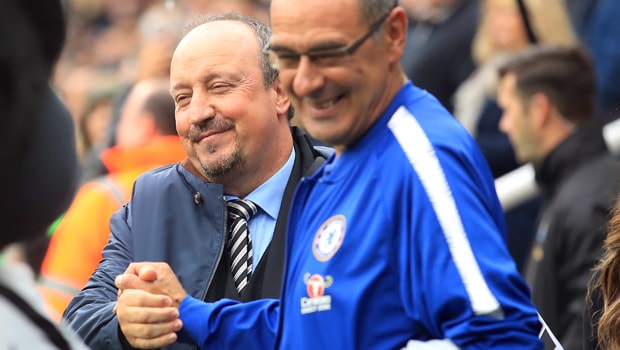 Maurizio Sarri menyarankan ia terkejut dengan taktik Rafael Benitez dalam kemenangan 2-1 Chelsea di Newcastle di St James' Park.
Sang pemain asal Italia membuat tiga kemenangan dalam tiga pertandingan Premier League, tetapi hanya dengan margin ramping ketika DeAndre Yedlin membobol gawangnya sendiri dengan tiga menit tersisa untuk memberi Chelsea poin.
Newcastle dibentuk untuk membuat frustrasi dan taktik mereka sebagian besar terbayar.
Tim tamu hanya membuat terobosan melalui penalti Eden Hazard yang secara kontroversial diberikan pada menit ke-76, yang kemudian dibatalkan oleh Joselu dengan tujuh menit untuk dimainkan.
Intervensi Yedlin yang tidak menguntungkan berarti Chelsea bergabung dengan Liverpool dan Watford dalam memenangkan tiga pertandingan pertama mereka dan Sarri mengungkapkan keterkejutannya yang jelas pada pendekatan Newcastle sesudahnya.
"Saya terkejut pada Rafa," kata Sarri kepada Sky Sports. "Di Italia, saya belum pernah melihatnya bermain dengan lima pemain bertahan jadi saya benar-benar terkejut.
"Pertandingan itu sangat sulit, mereka sangat rendah dan kompak, tidak mungkin memiliki ruang.
"Kami menjadi lebih baik di babak kedua tetapi itu adalah pertandingan yang sangat sulit." Saya pikir kami menunjukkan peningkatan karena pertandingan itu sulit tidak mudah dimainkan dengan baik. "
Hazard mulai untuk pertama kalinya di bawah Sarri dan disebut man of the match. Pemain asal Belgia itu melakukan lima upaya ke gawang, sementara ia menyelesaikan 91 dari 101 operan berhasil, untuk menyenangkan bosnya.
"Eden bermain sangat baik," tambah Sarri.
"Mungkin lebih baik ia bermain selama 75 atau 80 menit, tetapi (Mateo) Kovacic meminta pengganti, sehingga tidak mungkin [untuk mengeluarkannya]."
Chelsea, sekarang terpasang pada odds 11,00 untuk memenangkan gelar musim ini, dan pada odds 1,29 untuk membuat empat kemenangan dalam empat dengan mengalahkan Bournemouth di Stamford Bridge pada hari Sabtu.
Leave a comment