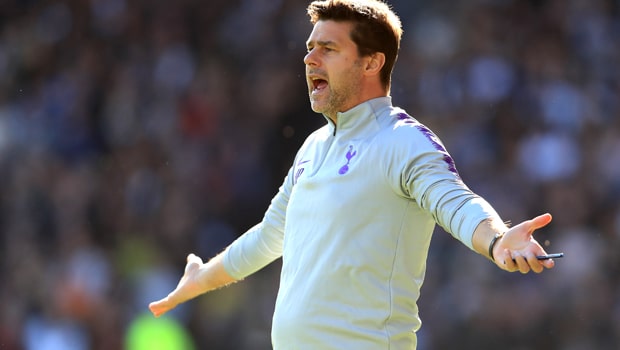 Mauricio Pochettino was less than pleased with Spurs having to play late on a Saturday evening away from home ahead of a crucial Champions League showdown with Barcelona in midweek.
Mauricio Pochettino kurang senang dengan Spurs harus bermain terlambat pada Sabtu malam jauh dari rumah menjelang pertandingan Liga Champions krusial dengan Barcelona pada pertengahan pekan.
Son Heung-min yang impresif mencetak gol pembuka sebelum babak pertama dan mengatur Dele Alli untuk gol kedua Tottenham setelah jeda ketika mereka merebut kembali tempat ketiga dari Chelsea dengan kemenangan rutin 2-0, tetapi kick-off terlambat tidak berjalan dengan baik dengan Pochettino.
"Saya agak terkejut Premier League menempatkan kami dalam posisi bermain saat ini karena kami melakukan perjalanan ke Barcelona pada hari Senin dan itu akan sangat sulit," katanya.
"Kami tidak menerima bantuan yang kami butuhkan dari Liga Premier tetapi kami akan siap bertarung di Barcelona."
Tottenham kini memiliki 36 poin setelah 16 pertandingan, penghitungan tertinggi mereka pada tahap ini di musim Premier League.
Dengan satu mata mungkin di Nou Camp, Pochettino pergi tanpa Harry Kane dan Christian Eriksen untuk pertandingan di Stadion King Power.
Leicester telah tak terkalahkan dalam enam pertandingan sebelum kunjungan Spurs, dan Pochettino memberi penghormatan kepada skuadnya karena membuat kemenangan penting, yang memastikan mereka bergeser kembali ke atas Arsenal dan Chelsea di klasemen – dengan rival London mereka yang keduanya menang pada hari sebelumnya.
"Pertunjukan yang sangat solid, saya sangat senang," tambah pemain asal Argentina itu.
"Itu adalah momen yang tidak bisa dipercaya dan gol yang luar biasa dari Son. Sangat penting bagi kepercayaan diri kami untuk masuk ke babak kedua dengan keyakinan kami bisa menang."
Tottenham adalah 3,10 untuk menang melawan Barcelona pada Selasa. The Catalans telah memenangkan Grup B dan 2,10 untuk mengakhiri babak grup dengan kemenangan dan hasil imbang adalah 3,80.
Leave a comment