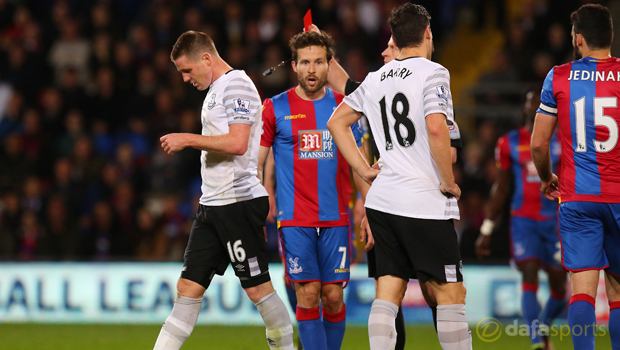 Roberto Martinez merasa bahwa kartu merah gelandang Everton James McCarthy terlalu keras, setelah kartu kuning keduanya pada laga sengit melawan Crystal Palace di Selhurst Park.
Pemain timnas Republik Irlandia tersebut mendapat hukuman wasit Bobby Madley tidak lama setelah peluit babak kedua dibunyikan, saat melanggar Yannick Bolasie.
Saat bos Toffees ini mengakui bawa ia punya sedikit alasan untuk mengeluh saat itu, namun setelah meninjau insiden tersebut di televisi, ia merasa bahwa McCarthy adalah pihak yang tidak bersalah pada insiden itu.
Martinez mengatakan pemainnya tidak berusaha melanggar Bolasie dan tidak bisa mengindar saat sayap Palace tersebut berlari ke arahnya.
"Saat saya melihatnya langsung, saya kira itu kartu kuning kedua, tapi jika anda menontonnya lagi, itu sangat, sangat keras," ujar Martinez. "Saya kira itu bukanlah kartu kuning sama sekali. Bola digiring ke depan dan Yannick Bolasie yang hampir berlari ke James McCarthy, yang tidak bisa menghindar.
"Ia tidak ingin menghentikan lari pemain Palace. Itu kartu kuning kedua yang sangat keras."
Pertahanan Everton sedang dikritik saat ini selama musim liga yang mengecewakan bagi the Toffees. Namun, dengan 10 pemain tersisa dalam waktu lama pada Rabu lalu, Martinez senang melihat lini belakangnya berhasil melakukan tugasnya saat menghadapi tekanan Palace.
Ia juga merasa bahwa timnya mampu memberikan cukup ancaman dan memastikan laga berlangsung sengit, bahkan hampir kemungkinan mendapat keunggulannya.
"Jika anda bermain cukup lama dengan 10 orang, anda akan diuji," katanya. "Kami harus mempertahankan konsentrasi yang baik dan kuat bertahan. Saya kira penting untuk menunjukkan nya. Anda lihat berapa banyak peluang yang kami ciptakan dan itu sebanyak peluang Crystal Palace."
Everton melawan Southampton di Goodison Park, Sabtu nanti. Mereka terbayar 2,50 jika menang. Kemenangan the Saints terbayar 2.88 dan hasil imbang 3.30.
Leave a comment