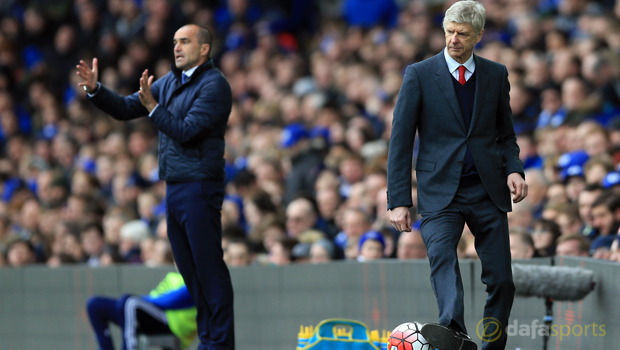 Pelatih Everton Roberto Martinez menyatakan bahwa timnya menunjukkan performa yang "mengkhawatirkan" saat kalah 2-0 dari Arsenal Sabtu lalu.
The Toffees berharap naik ke posisi 10 besar Liga Premier Sabtu lalu, tapi mereka tetap berada di posisi ke-12 setelah penampilan mengecewakan tersebut.
Setelah menyingkirkan Chelsea dari Piala FA, skuad Martinez diprediksi akan mengalahkan lawannya dengan mudah di Goodison Park.
Namun, gol Danny Welbeck dan Alex Iwobi memberi Arsenal tiga poin dan membantu mereka memberikan tekanan pada Leicester City dan Tottenham.
Banyak yang prediksi bahwa the Gunners akan berkesulitan setelah bermain di Eropa tengah pekan lalu, tapi Everton tidak berhasil menang dan tim bermarkas di Merseyside ini sekali lagi gagal untuk memberi kemenangan di depan fans mereka sendiri.
Berbicara setelah laga, Martinez mengakui bahwa timnya berada di bawah kendali lawan sepanjang laga tersebut.
Katanya kepada The Mirror. "Tidak ada pembelaan terhadap cara bermain kami [saat itu]. Arsenal bermain lebih baik dari kami di setiap menit laga.
"Arsenal fokus dan bermain lebih baik, sedangkan kami tidak bersemangat. Kami belum tampil seburuk itu musim ini. Kami tampak seperti tim yang mendapatkan laga tambahan. Ini sangat mengecewakan.
"Kami amat sangat lambat dalam membangun permainan dan bereaksi, kami tidak mengantisipasi permainan lawan. Itu permainan yang mengkhawatirkan."
Martinez berharap timnya bisa merespon pada laga berikutnya di liga melawan Manchester United.
The Red Devils terbayar 2,05 jika menang, hasil imbang 3,30, dan kemenangan Everton 3,50.
Leave a comment