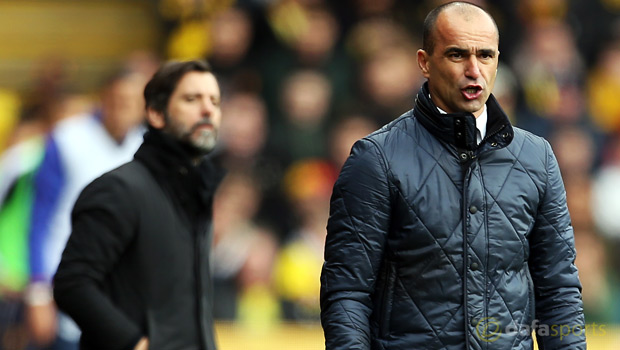 Di bawah tekanan manajer Everton Roberto Martinez mengatakan ia bersimpati dengan pendukung klub tetapi telah bersumpah untuk meningkatkan run saat tim dari penampilan buruk.
The Toffees saat ini 14 dalam klasemen Premier League setelah mengambil hanya satu poin dari empat pertandingan atas penerbangan terakhir mereka.
Titik yang datang imbang Sabtu 1-1 dengan Watford dan penggemar menunjukkan ketidakpuasan mereka pada penampilan buruk klub selama pertandingan itu, karena mereka mencemooh tim di peluit akhir dan meluncurkan 'Martinez Out' banner di Vicarage Road.
Martinez mengakui ia memahami frustrasi para fans ', tapi dia bersikeras ia tetap sangat bangga untuk mengelola pakaian Goodison Park.
Dia mengatakan kepada wartawan: "Sejak hari pertama, saya sangat bangga dan terhormat menjadi manajer di Everton dan saya menerima bahwa para penggemar tidak akan senang dengan tim kalah."
Pemain berusia 42 tahun menegaskan dia adalah melakukan semua yang dia bisa untuk meningkatkan bentuk klub saat ini, karena hanya kemenangan The Toffees 'dalam enam pertandingan liga terakhir mereka datang melawan bottom-of-the-table Aston Villa.
Dia mengatakan: "Mereka tahu bahwa saya akan memberikan hidup saya untuk mencapai tim pemenang, dan segala sesuatu yang kita lakukan adalah untuk membuat mereka bangga jadi saya tidak punya masalah dengan ketidakpuasan mereka."
Klub Merseyside yang memiliki Piala FA semi final untuk melihat ke depan untuk akhir bulan ini dan mereka dapat pergi jauh untuk menyenangkan para pendukung mereka dengan mengamankan kemenangan di pertandingan liga berikutnya melawan Crystal Palace di Selhurst Park, Rabu.
Everton tersedia di 2,50 untuk mengamankan terlambat tiga poin di London selatan, sedangkan Eagles ditawarkan di 2.88 dan undian dengan harga 3,25.
Leave a comment