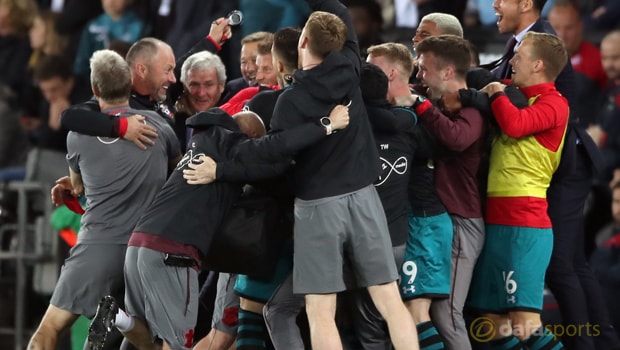 Southampton membuat langkah besar dalam usaha nya bertahan di Liga Primer dengan mengalahkan Swansea 1-0 di Liberty Stadium pada Selasa malam dan Mark Hughes menyebut penampilan mereka 'Luar Biasa'
The Saints melakoni pertandingan itu dengan posisi klasmen diatas the Swans dan garis degradasi, namun gol kemenangan dari Manolo Gabbiadini di 17 menit akhir pertandingan berarti hampir memastikan secara matematis klub dari pantai selatan itu masih akan bermain di kasta teratas Liga Inggris musim depan.
Hughes, yang ditugaskan menyelamatkan klub dari degradasi saat menggantikan Mauricio Pellegrino di bulan Maret, tanpa ragu memuji pemain-pemain nya setelah pertandingan, bukan hanya untuk usaha mereka malam itu, namun juga untuk bagaimana mereka tampil dalam periode kepelatihan nya yang baru dan singkat di St Mary's Stadium.
"Itu adalah usaha yang hebat dan luar biasa oleh semua nya, bukan hanya mala mini, namun semenjak saya datang dan mengambil tantangan ini," dikatakan pria Wales itu kepada Sky Sports.
"Saya dan staff masuk dan menemukan sekelompok pemain yang hanya membutuhkan sedikit arahan dan percaya akan apa yang mereka lakukan.
"Saya berkata, ke mereka, mereka telah berusaha keras, tiap hari nya, tiap pertandingan. Dalam sebagian pertandingan kami mengalami momen-momen yang tidak sesuai dan harus kembali bangkit, namun saya rasa kami sangat luar biasa malam ini, kami tidak akan dianggap remeh."
Hughes menolak untuk menyatakan bahwa the Saints sudah pasti aman, karena mereka masih membutuhkan 1 poin dari menjamu Manchester City di laga final untuk sepenuh nya memastikan aman.
Ia menambahkan: "saya sangat puas dengan mereka, dan dengan klub, dan jelas bahwa terdegradasi dari Liga Primer adalah hal yang sangat negatif bagi semua klub. Ini belum selesai secara matematis, namun kami sudah menempatkan diri kami di posisi yang bagus."
Southampton sekarang diberikan odds 151,00 untuk terdegradasi di akhir musim. Sementara kekalahan yang diderita Swansea menyebabkan mereka difavoritkan dengan odds 1,30 untuk turun kasta.
Leave a comment