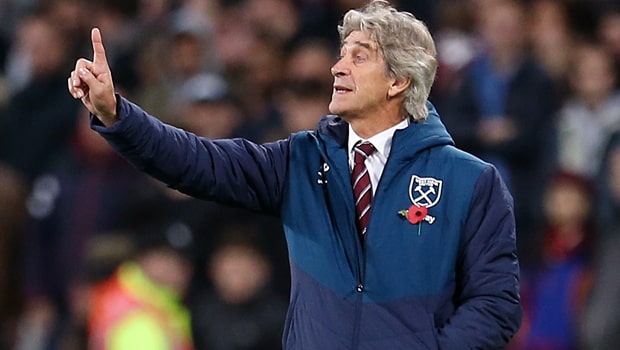 Manuel Pellegrini mengatakan West Ham memerlukan sebuah "permainan yang lengkap" saat mereka berhadapan dengan Huddersfield pada hari Sabtu.
The Hammers menang 4-1 pada lawatan terakhir mereka ke stadion John Smith dan bermodalkan kemenangan 4-2 atas Burnley Sabtu lalu. Huddersfield menjalani start buruk musim ini, tetapi baru saja mengamankan kemenangan pertama musim ini pada Senin kemarin, mengalahkan Fulham 1-0.
Anak buah David Wagner akan mendapatkan suntikan tenaga dari hasil tersebut dan orang Jerman tersebut akan waspada akan pentingnya penampilan kandang The Town untuk berjuang melawan hasil buruk.
Pertandingan ini adalah bagian dari jadwal mudah West Ham, dengan hanya Manchester City dan Watford sebagai tim 10 teratas yang akan mereka hadapi sebelum Arsenal pada 12 Januari nanti.
Anak buah Pellegrini mendapatkan odds 2.30 untuk menang, hasil seri 3.20 dan kemenangan Huddersfield 3.30
Orang Chili tersebut menolak meremehkan The Terriers, bersiap menghadapi keuletan yang sama yang menjadi ciri khas dari penampilan dari Yorkshire Side belakangan ini.
"Ini sangat penting karena kami perlu untuk mendapatkan poin," Katanya.
"Kami percaya kami bisa melakukannya, tapi mereka akan berjuang. Mereka baru saja memenangkan pertandingan pertama mereka dan hanya kalah 1-0 dari Liverpool. Kami harus memainkan permainan yang kolektif jika ingin menang. "
"Kami tidak memiliki masalah. Semua pemain tidak ada yang cedera, tidak ada yang mendapatkan masalah pada pertandingan terakhir kami."
"Kami memainkan permainan yang baik saat melawan Burnley. Sebuah penampilan yang baik, kami sangat tenang dan kami menang."
Leave a comment