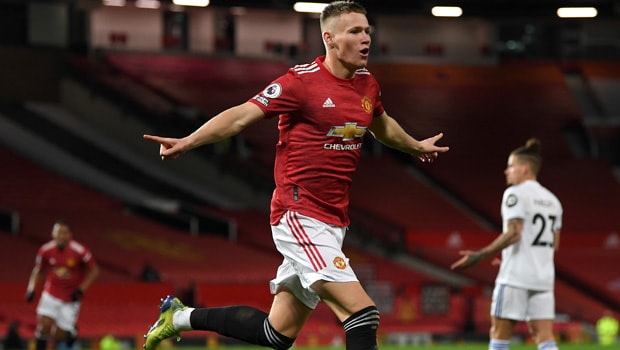 Manchester United bergerak dalam jarak 5 poin dari Liverpool yang berada di posisi teratas di tabel Liga Premier Inggris dengan kemenangan 6-2 yang luar biasa atas Leeds United pada Minggu malam.
Scott McTominay membuat sejarah dengan menjadi pemain pertama yang mencetak dua gol dalam tiga menit di Liga Premier.
Gol pertamanya tercipta pada menit ke-2, sementara di menit-menit berikutnya ia langsung mencetak gol untuk menjadikan skor 2-0 untuk kemenangan Setan Merah.
Bruno Fernandes dan Victor Lindelof membuat skor menjadi 4-0, tetapi Liam Cooper membalaskan satu gol sebelum jeda. Daniel James dan Bruno Fernandez membuat skor menjadi tegas, tetapi Stuart Dallas mencetak gol kedua Leeds United pada menit ke-73.
Kemenangan tersebut mendorong pasukan Ole Gunner Solskjaer ke posisi ketiga dengan 26 poin dari 13 pertandingan yang dimainkan, lima poin dari pemuncak klasemen Liverpool, yang memiliki 31 poin.
Pasukan Jurgen Klopp telah mengalahkan Crystal Palace 7-0 pada hari Sabtu. Kepindahan ke urutan ketiga untuk United dimungkinkan setelah Tottenham kalah dari Leicester City 2-0 di White Hart Lane.
Manchester United berada di depan Everton hanya dengan selisih gol di urutan keempat setelah The Toffees mengalahkan Arsenal 2-1 di Goodison Park pada hari Sabtu.
Sementara itu, mereka berada di urutan keempat belas satu di atas Arsenal dengan 17 poin, tiga lebih banyak dari The Gunners.
Pada hari Senin, Chelsea akan menjamu West Ham di Stamford Bridge dalam Derby London. Kemenangan untuk The Blues akan membawa pasukan Frank Lampard ke posisi kelima tergantung pada selisih gol dengan Tottenham, yang saat ini duduk di sana.
Juga, Burnley akan menyambut Wolves di Turf Moor untuk pertandingan Liga Premier epik lainnya. Dalam hasil lain dari akhir pekan, Manchester City mengalahkan Southampton dengan satu gol.
Newcastle dan Fulham bermain imbang 1-1 sementara Sheffield United hanya mendapat poin kedua musim ini dengan hasil imbang 1-1 melawan Brighton.
Ditulis oleh Daniel Ademiju Idowu
Leave a comment