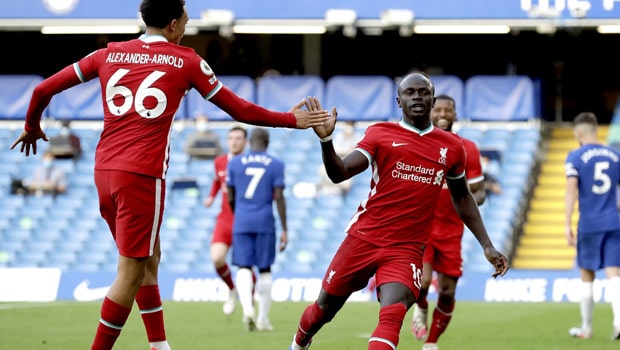 Liverpool FC mendapat kemenangan kedua hanya dari pertandingan kedua mereka di Liga Premier Inggris musim 2020/2021 saat mereka mengalahkan Chelsea 2-1 di Stamford Bridge pada hari Minggu.
The Reds yang merupakan juara liga telah mengalahkan Leeds United pada pertandingan pertama mereka musim ini 4-3 di stadion Anfield sebelum bertandang ke tim Frank Lampard di Stamford Bridge pada Minggu sore.
Dua gol Sadio Mane di babak kedua memberi tim Jurgen Klopp kemenangan yang datang seperti hadiah setelah penampilan buruk dari the Blues.
Pertama, itu adalah kartu merah untuk Christensen sebelum istirahat karena menjatuhkan Sadio Mane sebelum striker Senegal itu membawa bola ke daerah bertahan hanya lima menit setelah istirahat.
Empat menit kemudian, kiper Kepa Arrizabalaga melakukan kesalahan saat ia kehilangan bola ke Mane di kotak penalti saat striker itu memasukkan bola ke gawang yang kosong.
Gelandang Italia Jorghino kemudian menutup sore yang mengerikan itu dengan melewatkan tendangan penalti yang bisa membuat Chelsea kembali bermain. Ini adalah kekalahan penalti pertama gelandang Italia itu dengan seragam Chelsea di semua kompetisi dan pertama sejak November 2017 ketika dia kalah penalti di Napoli.
Ada debut rekrutan baru Liverpool dari Bayern Munich, Thiago Alcantara, yang menjadi pemain pengganti di babak kedua hanya beberapa hari setelah bergabung dengan tim.
Dalam pertandingan lain yang dimainkan selama akhir pekan di Liga Premier, Heung-Min Son mencetak empat gol dalam kemenangan 5-2 Tottenham atas Southampton pada hari Minggu.
Harry Kane membantu keempatnya sebelum mencetak gol terakhirnya meskipun Danny Ings mencetak dua gol untuk dirinya sendiri dalam pertandingan tersebut.
Pada hari Sabtu, Manchester United kalah 3-1 dari Crystal Palace di Old Trafford, permainan Donny Van De Beek tidak cukup karena Wilfred Zaha mencetak dua gol dan Andy Townsend membuka skor dengan gol pembuka.
Arsenal mencetak gol terakhir melalui Eddie Nketiah saat mereka menang 2-1 melawan West Ham United di Emirates Stadium. Alexander Lacazette membuka skor untuk Arsenal sementara Antonio menyamakan kedudukan untuk The Hammers sebelum turun minum.
Leave a comment