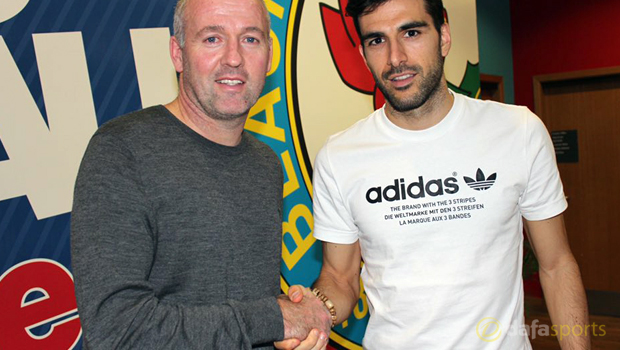 Bos Blackburn Rovers Paul Lambert memuji kedatangan batas waktu hari penandatanganan Jordi Gomez di Ewood Park.
Lambert merasa gelandang adalah persis jenis pemain terdiri timnya perlu di ruang mesin dan mengatakan pengalaman tingkat atas Gomez dapat membantu mengambil timnya ke depan.
Lambert ditangkap pembalap Spanyol 30-tahun dari Sunderland dan bos Rovers mengatakan ia hanya tipe pemain yang dibutuhkan di klub.
The Scot merasa bahwa Rovers akan dilayani dengan baik baik oleh bakat Gomez yang membawanya ke Liga Premier dan juga oleh fakta bahwa ia telah bermain di Championship.
"Dia bermain di divisi sebelumnya dengan Swansea dan Wigan, sebelum pergi ke Sunderland, jadi dia pemain sepak bola teknis sangat berbakat dan saya pikir itu adalah sesuatu yang kita butuhkan, seseorang yang baik pada bola," kata Lambert.
"Langkah ini terjadi sangat cepat dan itu adalah hari yang sangat panjang, tapi klub telah besar untuk menyelesaikannya. Itu penting kita membawa Jordi dan sekarang kami memiliki pilihan, yang adalah apa yang kita inginkan."
Gomez berjuang untuk membuat dampak di Stadium of Light dengan Sam Allardyce dan, menurut Lambert, ia sangat tertarik untuk pindah setelah Rovers telah mengisyaratkan minat mereka.
"Kami membutuhkan seseorang di tengah-tengah lapangan yang nyaman pada bola. Kami memiliki pemuda yang bisa melakukan itu, tapi dia melihatnya dan melakukannya," tambah Lambert.
"Itu penting untuk membawa seseorang seperti itu. Agar adil kepadanya, segera setelah aku memintanya untuk turun, dia lurus ke bawah jalan tol dan di sini.
"Tidak ada keraguan dari dia, dia ingin datang dan bermain lagi."
Blackburn menghadapi perjalanan ke Championship judul pesaing Middlesbrough, Sabtu.
Rovers 6.00 untuk membangun pada akhir pekan lalu menang Piala FA oleh consigning host mereka untuk kekalahan liga ketiga berturut-turut. Middlesbrough yang 1,62 untuk menang dan imbang adalah 3,60.
Leave a comment