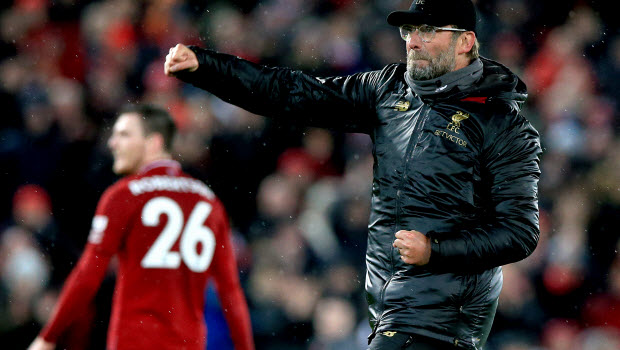 Manajer Liverpool Jurgen Klopp menggambarkan penampilan timnya melawan Manchester United sangat 'sempurna' saat mereka kembali ke puncak klasemen Liga Premier.
The Reds telah digantikan oleh Manchester City pada Sabtu setelah kemenangan mereka atas Everton. Orang-orang Klopp pergi ke pertandingan di Anfield tak terkalahkan di liga dan mereka melanjutkan hal itu berkat tampilan yang solid di depan fans mereka sendiri.
Pengganti Xherdan Shaqiri membakar semangat mereka saat ia meraih dua gol dari bangku cadangan untuk membantu The Reds mencatat kemenangan 3-1. Mereka sekarang memimpin saingan mereka dengan satu poin di atas pertandingan liga melawan Wolves, Newcastle United, Arsenal dan Citizens.
Liverpool tetap menjadi pesaing utama City untuk meraih gelar juara di odds 3,25 dan Klopp dengan cepat memuji skuadnya untuk penampilan mereka. Dia mengatakan kepada Sky Sports: "Ini adalah awal yang brilian, salah satu penampilan terbaik yang kami miliki sejak saya berada di Liverpool, jujur dari dalam hati saya. Setengah jam pertama adalah penampilan yang luar biasa. Bagaimana kami bermain sangat sempurna.
Saya merasa seperti di atas bulan melihat pertunjukan kami. Cara anak-anak bermain malam ini sangat luar biasa. Kami melihat susunan pemain United dan kualitas mereka – seberapa terorganisir mereka dan mereka bertarung dari posisi belakang, Anda tahu itu bisa sangat sulit.
"Tetapi rencananya adalah untuk mengambil risiko, menjadi berani dan manaruh bola di belakang garis. Tujuan pertama kami adalah tentang bagaimana, jika Anda bisa menyimpulkan, itu akan menjadi tujuan kami. Itu sangat brilian. Sebuah kinerja yang fantastis, sangat layak. Top, tim kelas satu atas. "Saya tidak berpikir United ingin bermain defensif tetapi kami tidak akan lepaskan mereka. Secara keseluruhan itu hanya sangatlah brilian."
Leave a comment