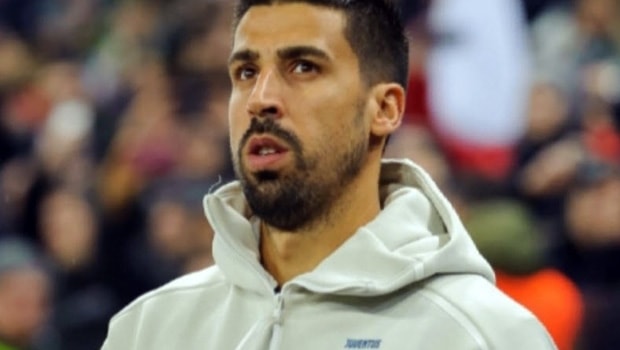 Gelandang Juventus Sami Khedira telah mengkonfirmasi bahwa dia akan meninggalkan Bianconeri selama jendela transfer musim dingin, yang dibuka pada 1 Januari.
Sepak Bola Italia telah melaporkan bahwa pemenang Piala Dunia Jerman bisa pindah ke Liga Premier dan bekerja sama dengan Everton.
Gelandang Jerman tersebut belum tampil untuk Nyonya Tua musim ini. Namanya juga dihilangkan dari daftar skuad Liga Champions Bianconeri.
Meskipun kesepakatannya saat ini berakhir Juni mendatang, Nyonya Tua sedang menegosiasikan pemutusan kontrak lebih awal.
Berbicara kepada media Jerman, Bild, tentang masa depannya, Khedira yang juga pernah bermain di Real Madrid mengatakan terbuka untuk tantangan baru.
Sambil mencatat bahwa dia mengalami masa-masa buruk, gelandang bertahan ini sangat ingin bermain sepak bola lagi dan berjuang untuk mendapatkan tiga poin setiap minggunya. Karena itu, dia mencari tantangan baru.
Memiliki bakat besar dengan status bebas transfer akan menjadi keunggulan bagi Carlo Ancelotti, yang telah membangun kembali Everton. The Toffees baru-baru ini mengalahkan Chelsea 1-0 di Goodison Park untuk mencatat kemenangan kedua mereka dalam delapan pertandingan setelah awal musim yang fantastis yang membuat mereka berada di puncak klasemen di beberapa titik.
Berbicara tentang kekuatan dan energinya, yang katanya dia miliki di kuantum, dia mengaku berbicara dengan Ancelotti. Dengan fakta ini, The Toffees berada di posisi terdepan untuk mengamankan tanda tangannya. Pembalap Jerman itu selanjutnya menegaskan bahwa dia tidak mencari kepindahan musim panas mendatang, tetapi musim dingin ini, dia mengatakan tujuan utamanya.
Memiliki trio lini tengah Khedira, Abdoulaye Docoure, dan James Rodriguez bisa jadi sulit bagi tim lawan untuk dihancurkan.
Ancelotti sudah mengetahui situasi Khedira. Namun, pemain Jerman itu membiarkan opsinya terbuka lebih jauh, dengan menyatakan bahwa dia bisa pindah ke klub lain di luar Inggris selama musim dingin. Bergabung dengan Everton berarti dia akan bersatu kembali dengan ahli taktik Italia yang pernah bermain di bawah asuhannya di Madrid.
Khedira ingin bekerja sama dengan banyak pemain muda untuk membantu sebagai mentor mereka di lapangan dan berbagi pengalaman.
Ditulis oleh Oladipupo Mojeed
Leave a comment