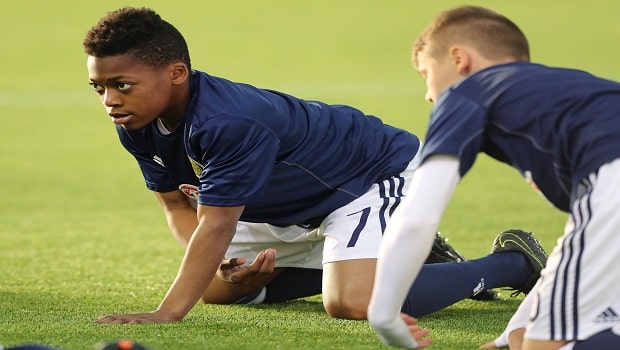 Karamoko Dembele mengatakan dia sangat menantikan untuk melihat masa depan apa yang akan datang kepada nya setelah menandatangani kontrak profesional pertamanya dengan Celtic pada usia 15 tahun.
Pemain tim nasional Inggris U-15 Dembele bergabung dengan barisan pemuda Celtic pada tahun 2013 pada usia 10 tahun dan merupakan salah satu pemain muda berperingkat paling tinggi di juara Skotlandia.
Pemain sayap itu menoreh nama untuk dirinya sendiri pada Oktober 2016 ketika ia melakukan debut U-20 melawan Hearts di usia 13, datang dari bangku cadangan untuk tim yang tujuh tahun di atas kelompok usianya.
Celtic kini telah memutuskan untuk memberikan Dembele kontrak pro pertama hingga 2021 dan bintang yang sedang naik daun ini ingin melanjutkan perjalanannya di Parkhead, dengan tujuan utamanya untuk menembus tim senior.
"Ini sangat berarti bagi saya untuk memulai karir profesional saya di Celtic," katanya kepada situs web tim. "Saya datang ke sini pada usia muda dan setelah semua hal yang saya dan keluarga saya lalui bersama, akan baik untuk membuat mereka bangga." Saya ingin mengucapkan terima kasih kepada semua orang dan saya ingin mengucapkan terima kasih kepada semua orang untuk semua yang telah mereka lakukan untukku. Saya juga ingin mengucapkan terima kasih kepada semua orang atas pelatihan yang telah saya terima, disiplin yang telah di ajarkan pada saya, dan saran yang telah di berikan sejauh ini.
"Mendapatkan perhatian di usia muda memang sulit, tetapi saya jelas memiliki keluarga yang membantu saya melalui itu. Anda harus kuat secara mental, Anda harus tetap di batasi dan Anda hanya perlu melanjutkan semua yang Anda lakukan sehari-hari."
Celtic, yang memiliki tujuan untuk menyelesaikan treble-treble musim ini, juga berjuang untuk mendapatkan trofi di Liga Eropa dan telah di pasangkan melawan Valencia di babak 32 besar.
The first leg takes place at Parkhead on February 14 and the hosts are 3.40 to pick up the win, the draw is priced at 3.50 and the visitors are 2.15 favourites.
Leg pertama berlangsung di Parkhead pada 14 Februari dan tuan rumah di berikan nilai 3,40 untuk bila menang, Seri dihargai 3,50 dan Tim lawan di favoritkan dengan 2,15.
Leave a comment