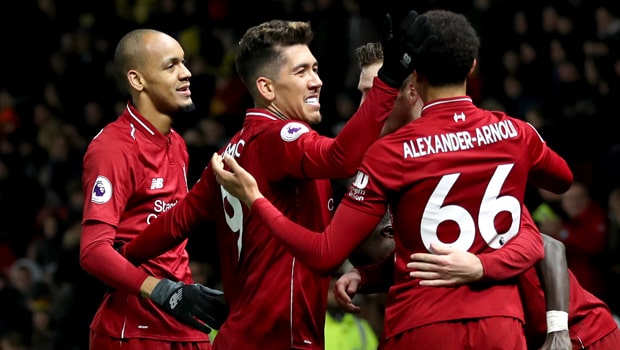 Pelatih Liverpool Jurgen Klopp yakin bahwa Roberto Firmino akan membungkam kritikannya setelah ia mengakhiri gol nya melawan Watford pada Sabtu sore lalu.
The Brazil International mencetak gol ketiga dalam 3-0 menang di Vicarage seperti Liverpool yang melanjutkan menekan Manchester City di atas meja.
Firmino baru saja telah mencerak 3 gol dalam 13 penampilan, dengan golnya yang terakhir di Premier League September 2015 mendatang.
Bagaimanapun, Hoffenheim yang bermain pada bagian Mohamed Salah dan Gol Trent Alexander-Arnold dan Klopp telah dengan cepat mempertahankan jimatnya.
Dia mengatakan : " semua itu tergantung dari apa yang ingin kamu lihat, apa yang kamu harapkan, dengan apa yang kamu bandingkan untuk itu.
"Di pertandingan melawan Fulham, 20 pelatih Jerman di Stadium – saya tidak yakin bagaimana kritikan-kritikan yang lalu, akan tetapi saya melihat mereka dan kami minum-minum bersama, mereka kemudian berkata"Bobby Firmino, Pemain yang mengagumkan!"
"Karena hal kecil yang ia lakukan, ia bekerja sangat keras, dia disini, dia disana, dia mendapatkan 6 gol tetapi dia membuka 5000 celah untuk semua orang."
"Dia melakukan pekerjaannya – membuat nya tidak terhingga bernilai bagi kami. Saya sangat bahagia untuknya. "hal itu hanya tentang apa yang kita harus lakukan di momen yang tepat – kita harus menemukan sebuah system dimana kita akan membawa kulitas pada lemparan, dan di Sabtu lalu kita berhasil"
Firmino akan diharapkan memulai Campion league pada pertemuan Rabu dengan Paris Saint-Germain.
Juara Ligue 1 adalah 2.15 favorit, dengan hasil imbang 3.80, sedangkan The Reds adalah sedikit terluar pada 3.20.
Leave a comment