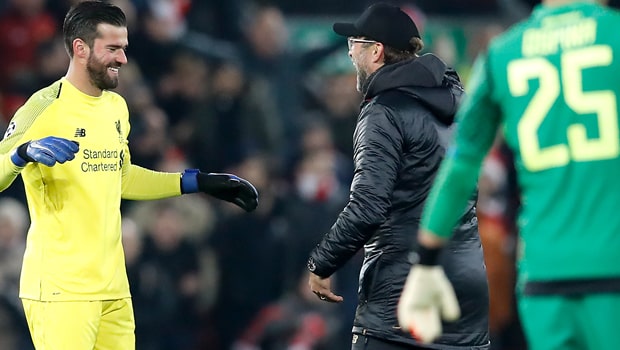 Pelatih Liverpool Jurgen Klopp memuji Alisson setelah dia membantu timnya mencapai babak 16 besar Liga Champions dengan mengalahkan Napoli. The Reds bertarung di Anfield dengan kemenangan 1-0 diketahui akan cukup, tetapi mereka harus menang dengan dua gol yang jelas jika Napoli mencetak Gol di Merseyside.
Mohamed Salah membuka skor untuk The Reds di babak pertama dan Liverpool berhasil menjaga clean sheet lain di kandang.
Bagian terpenting adalah penyelamatan Alisson pada menit akhir. Pemain internasional Brasil bergegas keluar dari gawangnya untuk menggagalkan pemain Internasional Polandia Arkadiusz Milik dari mencetak gol dalam kotak penalti.
Dengan begitu banyak hal yang dipertaruhkan, Klopp memuji kipernya, yang berharga 66,8 juta poundsterling, dan dia mengakui bahwa dia akan membayar dua kali lipat untuk mengetahui seberapa bagusnya dia saat ini
"Kiper membuat penyelamatan musim ini," kata Klopp. "Saya tidak tahu bagaimana dia membuat penyelamatan itu. Terima kasih Tuhan, kami memilikinya.
Jika saya tahu betapa bagusnya dia, saya akan membayar dua kali lipat. Saya pikir tidak ada yang mengharapkan penyelamatan dalam situasi itu. Apakah itu Gol, Tidak? "Dia punya banyak hal yang harus dilakukan malam ini, tapi bagaimana keren dan tenangnya dia memberi banyak arti. Tapi tetap dia membutuhkan pemain lain di sekitarnya, agar dia tidak perlu membuat 100 penyelamatan seperti itu.
"Itu tidak bisa dipercaya, apa yang dilakukan mereka malam ini, itu sangat spesial. Mereka menciptakan suasana luar biasa seperti itu. Saya masih penuh dengan adrenalin tentang hal itu, sungguh tidak bisa dipercaya."
Liverpool menempati posisi kedua di Grup C di belakang Paris Saint-Germain dan mereka sekarang 11,00 untuk melanjutkan dan memenangkan turnamen, sementara PSG adalah 8,50 untuk mengangkat trofi.
Leave a comment