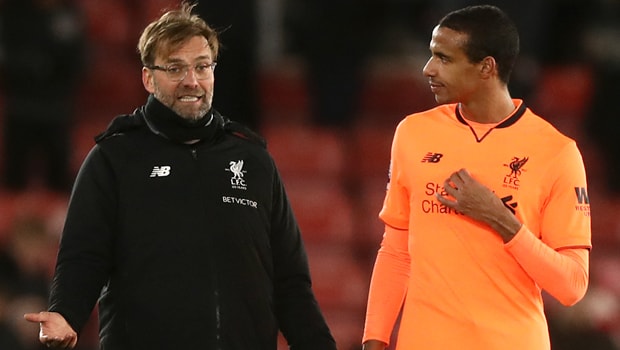 Jurgen Klopp berharap cedera paha baru yang memaksa Joel Matip keluar dari kekalahan ramah Liverpool 3-1 pra-musim melawan Borussia Dortmund adalah "hanya sedikit air mata".
Bos The Reds harus berjuang tanpa pemain belakang Kamerun berusia 26 tahun itu untuk sisa musim lalu ketika ia mengalami cedera paha melawan Crystal Palace pada akhir Maret.
Matip diperlukan operasi pada cedera dan bekerja kembali menuju kebugaran penuh musim panas ini dengan satu mata pada kampanye Liga Premier baru, yang akan berlangsung pada 12 Agustus melawan West Ham di Anfield.
Namun, keterlibatannya melawan The Hammers kini diragukan setelah masalah otot paha lainnya hanya 22 menit memasuki pertandingan Dortmund, yang Klopp bersikeras bukanlah mengulangi yang ialami musim lalu dan ia tetap berharap bahwa PHK Matip tidak akan menjadi yang panjang.
Berbicara setelah kekalahan Piala Champions Internasional di Charlotte, North Carolina, Jerman mengatakan: "Ini bukan cedera yang sama. Ini otot yang lain – sepertinya, mudah-mudahan, hanya sedikit air mata.
"Kita akan lihat, tetapi kita tidak bisa mengatakan lebih banyak lagi tentang hal itu sekarang. Hal ini tentu saja hal yang paling negatif tentang hari itu. Ini tidak keren. Hal-hal seperti ini bisa terjadi, tetapi Anda tidak menginginkannya.
"Mungkin pada hari Senin atau Selasa kita akan tahu lebih banyak, tetapi pada saat ini kita hanya tahu bahwa terlalu menyakitkan baginya untuk melanjutkan."
The Reds sekarang menghadapi Manchester City di turnamen pra musim di New York's Metlife Stadium pada hari Rabu dan pada 21/20 untuk menang, sementara City pada 21/10 dan hasil seri adalah 11/4.
Leave a comment