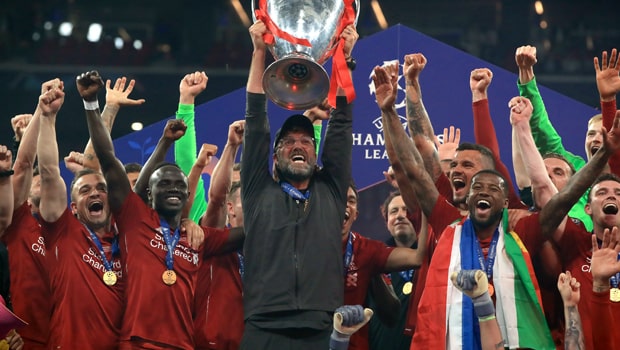 Manajer Liverpool Jurgen Klopp mengatakan keberhasilan Liga Champions pada hari Sabtu adalah malam terbaik dalam karirnya saat The Reds memenangkan Piala Eropa keenam mereka dengan mengorbankan Tottenham Hotspur.
The Anfield, yang 3,60 untuk memenangkan Liga Premier musim depan, menang di Madrid setelah final yang mengecewakan antara dua raksasa Liga Premier.
Pasukan Klopp melakukan awal yang cepat di pertandingan saat mereka membuka skor di dua menit pertama. Moussa Sissoko diputuskan telah memegang umpan silang Sadio Mane, Mohamed Salah mencetak gol dari titik penalti.
Kiper Alisson siap menangkal Spurs pada beberapa kesempatan sebelum Divock Origi mencetak gol di 10 menit terakhir untuk memastikan Klopp memenangkan trofi utama pertamanya sejak ia tiba di Merseyside pada 2015.
Ketika ditanya tentang final, Klopp mengatakan kepada BBC Sport: "Apakah Anda pernah melihat tim seperti ini, bertarung tanpa bahan bakar di dalam tangki? Saya sangat bahagia untuk anak-anak ini, semua orang di sini dan keluarga saya. Mereka menderita untuk saya, mereka layak mendapatkannya lebih dari siapa pun.
"Itu adalah musim yang intens dengan hasil akhir terindah yang pernah saya bayangkan." Saya merasa sangat lega, lega bagi keluarga saya. Enam kali terakhir kami terbang berlibur hanya dengan medali perak, rasanya tidak terlalu keren.
"Malam ini adalah tantangan besar bagi kedua tim untuk menghadapi tiga minggu tanpa pertandingan.
Final adalah tentang hasilnya dan malam ini anak-anak menunjukkan ketangguhan yang kami butuhkan. Saya tidak ingin menjelaskan mengapa kami menang, saya hanya ingin menikmati bahwa kami memenangkannya. "Malam ini benar-benar emosional, tetapi saya jauh lebih tenang daripada yang saya kira.
"Tidak penting bagi saya untuk menyentuh piala. Saya senang melihat anak-anak memilikinya dan melihat beberapa wajah di kerumunan. Pergi ke Liverpool besok dengan sesuatu untuk dirayakan adalah besar dan saya benar-benar menantikan hal itu."
Leave a comment