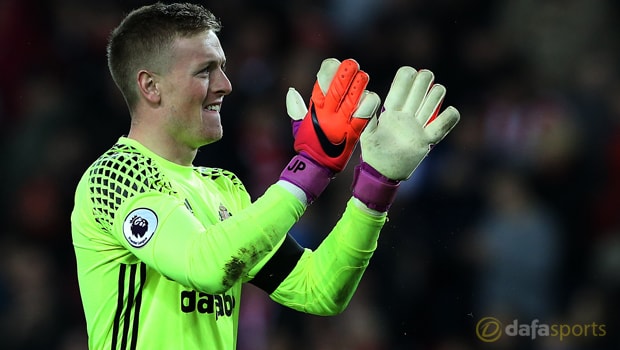 Jordan Pickford mengincar catatan bersih pada Boxing Day (26 Desember) saat Sunderland bertandang ke Old Trafford untuk menghadapi MU.
Kondisi Red Devil meningkat bulan ini, setelah memenangkan tiga pertandingan mereka baru-baru ini melawan Tottenham, Crystal Palace dan West Brom.
Sunderland pun juga kini dalam kondisi baik, skuad David Moyes ini memperoleh empat kemenangan dalam tujuh pertandingan setelah awal yang buruk musim ini.
Namun Black Cats masih berada dalam zona degradasi selama Natal, dan menghadapi masa sulit dalam melawan skuad Jose Mourinho.
Pickford sangat senang dengan shutout-nya melawan Watford pekan lalu dalam kemenangan 1-0 di Stadium of Light. "Sangat menyenangkan mendapatkan catatan bersih, karena saya tidak mendapatkan mereka seperti yang saya inginkan.
Saya akan menerima catatan bersih manapun yang akan datang, karena dari sudit pandang penjaga gawang itu adalah hal terbaik," ia berkata pada situs Sunderland.
Burnley berhasil menundukkan United di kandang sendiri awal musim ini, Skuad Sean Dyche tampil dengan strategi permainan yang terencana dan membuat frustrasi tim tuan rumah.
Pickford mengemukakan bahwa sang mantan pelatih United, Moyes, kemungkinan memiliki gagasan yang sama mengenai tandang mereka ke Theatre of Dreams, dan sang kiper berusia 22 tahun ini mengisyaratkan catatan bersih adalah landasan dari hasil cemerlang.
"Inilah mengapa Liga Premier adalah salah satu liga terbaik di dunia, karena lawan kami adalah para pemain top," ia menambahkan.
"Kami harus tampil dan menunjukkan kalau kami tidak takut. Dan harus tetap pada rencana permainan kami, tetap menjaga catatan bersih dan seperti yang Anda katakan, apapun dapat terjadi."
Sunderland terpasang pada odds 13,00 untuk menang melawan MU, sementara mereka terpasang pada odds 10,00 untuk menjaga catatan bersih.
Leave a comment