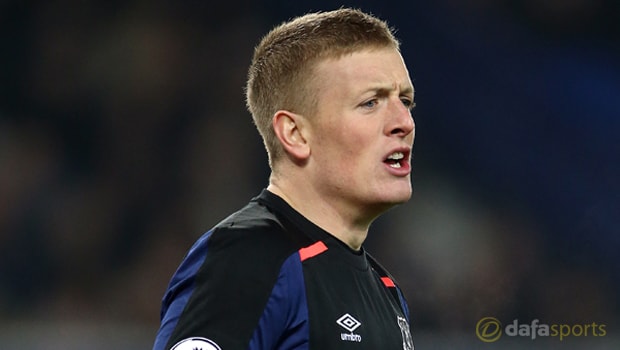 Jordan Pickford, kiper, mengatakan bahwa dirinya fokus pada tampil secara konsisten bagi Everton, karena dirinya mengincar slot di timnas Inggris untuk Piala Dunia 2018.
Pemain berusia 23 tahun ini menjadi man of the match setelah tampil bagi Everton hari Sabtu lalu, saat Everton menjaga ketat pertahanannya terhadap juara bertahan Liga Premier, Chelsea, hingga seri tanpa gol di Goodison Park.
Pickford sudah sering tampil bagi Toffees sejak pindah dari Sunderland, selama musim panas kemarin, dengan kontrak senilai kira-kira £25 juta.
Penjaga gawang ini diperkirakan akan meraih slot di timnas Inggris untuk Piala Dunia 2018 di Rusia, tapi dirinya masih berjuang untuk mengamankan posisi nomor satu tersebut.
Posisi Joe Hart sebagai nomor satu reguler di starting XI tampak tak tentu, setelah ia kehilangan slot start dengan West Ham, sedangkan Jack Butland dari Stoke bergumul dengan cedera selama 18 bulan terakhir.
Pickford berkata dirinya hanya fokus pada tampil bagi Toffees di ranah domestik, dan berharap pelatih Three Lions, Gareth Southgate, mengakui usahanya.
"Masih jauh. Saya harus terus berperforma buat Everton. Saya nggak bisa mengendalikan hal lainnya," ujar Pickford.
"Yang utamanya itu memastikan saya ikut terbang kesana, karena itu akan jadi pengalaman yang hebat buat saya.
"Persaingannya ketat, makanya kita nggak boleh terlalu memikirkannya.
"Kita bisa melakukan semuanya di lapangan, dan di luar lapangan, supaya bisa bergabung, tapi yang utama itu tampil di satu hari Sabtu, dan mendapatkan catatan bersih itu bakal ngaruh.
"Tapi saya merasa perjalanannya masih jauh, dan saya perlu fokus saja untuk bertanding, jadi lebih dan lebih dewasa sebagai kiper."
Selanjutnya Everton akan bertanding di Boxing Day, dan dapat didukung di odds 3,25 untuk merebut tiga poin saat bertandang ke West Brom, yang odds-nya 2,40 untuk menang, sedangkan hasil seri tersedia di odds 3,10.
Leave a comment