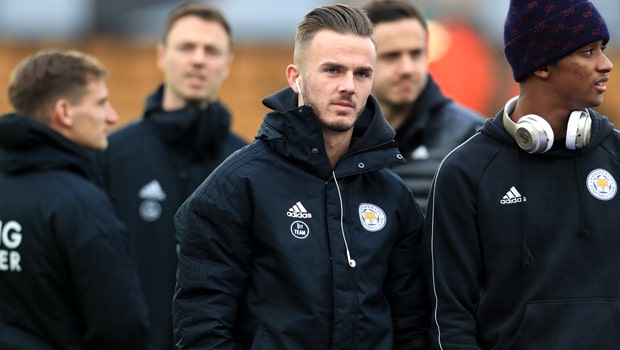 James Maddison mendesak Leicester City untuk menggunakan sisa musim ini untuk meningkatkan rekor mereka di Stadion King Power.
The Foxes telah mengumpulkan hanya 17 poin dari 42 yang tersedia untuk mereka di kandang sejauh musim ini.
Maddison ingin mendapatkan tiga lagi di papan akhir pekan ini ketika Fulham berjuang datang ke kota dalam apa yang akan menjadi pertandingan kandang pertama Brendan Rodgers sebagai manajer Leicester
Rodgers telah berdiri untuk menyaksikan Leicester mengatasi Brighton 2-1 di kandang pertengahan pekan lalu, meskipun pertandingan pertamanya sebagai bos berakhir dengan kekalahan 2-1 di Watford pada hari Minggu.
"Kami melakukannya dengan baik melawan Brighton dan jelas kami memenangkan pertandingan," kata Maddison yang berusia 22 tahun.
"Bentuk rumah kami belum menjadi yang terbesar tetapi semoga kita bisa menendang sekarang dan membuat Stadion King Power menjadi benteng menjelang akhir musim. "
Bournemouth, Newcastle, Arsenal dan Chelsea semuanya akan mengunjungi Leicester antara sekarang dan akhir musim ketika The Foxes berusaha membangun momentum di bawah bos baru mereka.
Maddison beradaptasi dengan kehidupan di bawah Rodgers dan dia mengatakan dia sudah menikmati sentuhan pribadi dari mantan bos Liverpool dan Celtic, yang terkenal karena mengembangkan talenta muda. "Kami memiliki beberapa obrolan yang bagus tentang hal-hal yang kami butuhkan untuk menjadi lebih baik secara individual," tambahnya.
"Itu selalu baik untuk mendapatkan umpan balik sebagai pemain karena Anda selalu ingin terus bertambah baik sebagai pemain. Saya tahu itu klise untuk mengatakannya, tetapi Anda mengetahuinya.
"Anda ingin manajer Anda mengarahkan jari pada Anda jika Anda tidak melakukan apa yang dia inginkan, dan selalu menyenangkan untuk mendapatkan pujian ketika Anda melakukannya dengan baik."
Leicester adalah 1,62 untuk mendapatkan yang lebih baik dari Fulham pada hari Sabtu, dengan Foxes harga 11,00 untuk memenangkan pertandingan 3-0.
Leave a comment